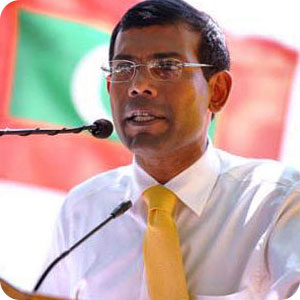 Candidate 4
Mohamed Nasheed (46) is the candidate for Maldivian Democratic Party (MDP) and the only democratically elected president in Maldivian history. He was ousted on 7 February in the coup that was ruled 'not a coup' by the Commission of National Inquiry (CoNI).
Nasheed's chief selling point is his long history of fighting for democracy in the Maldives and his pledge to restore it if elected again. Nasheed's two and half years in government (November 2008- February 2012) was controversial — people either loved him or hated him. Few were indifferent. The Nasheed administration introduced free healthcare, a basic pensions scheme for the elderly, and a desperately needed transport system that made travel between the islands scattered across 90,000 square kilometres of Indian Ocean easier than ever before. Freedom of expression and other civil liberties flourished to unprecedented levels during his presidency.
A large share of Nasheed's time in government, however, was spent fighting the always present threat of an authoritarian reversal, the 'dregs of dictatorship' that remained within every branch of government. The opposition majority in parliament blocked several key plans of the administration and opposed judicial reform at every turn, vehemently obstructed Nasheed's push for taxing the rich, making the executive's job as difficult as possible in the new democracy.
Throughout his years in power, his administration was also dogged by accusations of nepotism, over-indulgence, and most damagingly, of being 'irreligious' [Laa Dheene] and anti-Islamic. Despite the latter, it was also during Nasheed's presidency that Maldivian religious radicals, liberated by Nasheed's commitment to freedom of expression, most widely disseminated their hate-filled ideologies ultimately contributing to his downfall.
As a presidential candidate, Nasheed still rouses strong emotions. Tens of thousands—men and women of all ages—clearly adore him. Detractors hate him, refusing to believe he resigned under duress and accusing him of concocting a tall tale about being forced to resign. In their version of the truth, he left the position unable to govern or in a moment of weakness. Despite the allegations, all his opponents acknowledge that he is their strongest rival. In fact, all of them have said he is their only rival.
Personal Tidbits
Nasheed is a history enthusiast who has authored two books. A former journalist and an avid reader, he has said his true passion is writing. He loves animals and kept a whole cage full of birds until he was jailed himself. On returning from prison, he freed them all. He loves spending time with his two daughters and, as a committed weekend-cleaner at home, has said if he loses the election his teenage daughter has suggested they start a domestic cleaning company together. His wife of nineteen years, Laila, has said what she loves most about Nasheed is his great sense of humour.
Why should you vote for Nasheed? In his own words:
I believe the Maldivian people really wanted to ask 'why', and to do something by themselves to find an answer to the 'why'. They wanted to vote, and to establish a leadership from the results of that vote. They wanted to have more than one person to vote for and to have a competitive political environment . People are realising that it is we who have tried to establish competitive politics in this country and I think they accept what we have done in this regard. People also appreciate what we were able to do in our two years. Our track record in government is good. We did not arrest and torture a single person. We did not seize anyone's property unlawfully. People really wanted to be free from torture, to be safe from inhumane violence. Our track record on that is impeccable. I also feel that people accept the policies we propose for the future. I believe this year's election results has almost been decided already. The re-registration of voters casting their ballot paper in places other than their home islands has shown clearly that we will win in one round. God willing, we will win in one round.
[RiyaaC Programme, MNBC One]
For more information and analysis, visit Minivan News