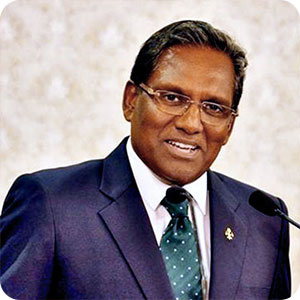 Candidate 2
Mohamed Waheed Hassan Manik (60), is the incumbent President, running as an independent candidate. Waheed took oath on 7 February 2012, a few hours after Mohamed Nasheed resigned under duress. Until then Waheed was Nasheed's Vice President. Waheed insists his presidency is legal, a claim legitimised by the Commission of National Inquiry (CoNI) ruling a year ago that the events of 7 February 2012 did not amount to a coup d'état.
Waheed's chief selling point to voters has been a claim to calmness, an ability to remain undisturbed in extreme turbulence. As evidence of this, Waheed has pointed to his two inaugural speeches at the Majlis, delivered amid riotous heckling by MDP MPs and large protests outside. According to his brother Ali Waheed, it is down to Waheed's infinite patience and unflappability that the streets of Male' are not completely chaotic as they were in the immediate aftermath of the coup. With a long and illustrious career in the United Nations behind him, Waheed's campaign also projects him as a man of the world with the kind of international experience that all his rivals lack.
Waheed has been described by Hassan Saeed, then his chief political advisor as 'politically the weakest person in the Maldives', and his 18 months as acting president has been disastrous for both him and the country. He has presided over a shocking decrease in freedom of expression and other civil liberties as well as the biggest increase in state-sponsored violence since democratic rule began. Waheed's government has entirely failed to take any steps towards crucial judicial reform, has been dogged by massive economic problems, and has damaged foreign investor confidence with a range of bad decisions, especially the decision to void GMR's airport development contract. Waheed insists none of this has anything to do with him and maintains that he has support of 'the silent majority' which he estimates to be about 90 percent of the population.
Personal Tidbits
Waheed makes a mean lamb/beef curry, shares domestic chores with his wife Ilham Hussein, loves cycling and listens to Ghazals. He has three grown-up children, two of whom are as involved in his political life as his wife. Until recently, his youngest, a son, was known as Jeffrey but is now referred to as Salim, perhaps to appease the radical Islamists who insist on Arabic names for children as proof of the parents' Islamic beliefs. His wife Ilham, who is also his first girlfriend, has said what she admires most about him is his morals and good manners.
Why should people vote for Waheed?
In his own words:
I believe that today the Maldivian people want a leader who will take the nation forward calm and steady. People who can bring the necessary development and reforms as smoothly as possible. I have shown this to the best of my ability in recent days. This is a difficult time. This is an unusual time in Maldivian history. It is a time of exceptional change, a time which requires that we go forward with some amount of maturity, calm and steadiness. It requires development of the whole country without personalising the difficulties, by looking at the big picture. We have to find a way to continue with the democratic work that has already been started. I believe that our brothers and sisters will carefully look at all candidates. When they do, I believe that I will receive a lot of support.
[RiyaaC Programme, MNBC One]
For more information and analysis, visit Minivan News