Maldivian Democratic Party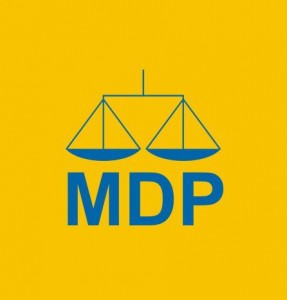 MDP was formed in exile in 2003 by a group of 42 Maldivians, including Mohamed Nasheed, its presidential candidate [No.4] in this 2013 election. Registered in the Maldives as a political party in 2005, MDP currently has over 40,000 members making it the largest political party in the Maldives. Replacing authoritarianism with democratic rule being its raison d'être, democratic activism has been MDP's greatest strength throughout its history.
In 2008, three years after it was formed, MDP contested the first democratic elections in the Maldives with Mohamed Nasheed as its presidential candidate. It failed to win a clear majority in the first round, forcing MDP to ally with other political parties including Gasim Ibrahim's Jumhooree Party and the 'Islamist' Adhaalath Party to defeat Gayoom in the second round.
During its two and a half years in government, the party introduced several key policies which won it many new supporters and strengthened the loyalty of existing ones. These include the introduction of universal healthcare, provision of a basic pension for everyone over the age of 65, a single mothers allowance, and an inter-atoll transport system. MDP also attracted the biggest foreign investment in the history of the Maldives in the form of a 25-year contract worth over US$500 million with India's GMR to develop and maintain the Ibrahim Nasir International Airport. The opposition, however, turned it into one of it's chief anti-MDP campaign tools and voided the contract after the coup.
Despite MDP's many achievements and successes, it was unable to win a clear majority in parliament, and lost many supporters as several key party figures became involved in allegations of corruption and reports of nepotism. Idealistic supporters who longed for democratic reform also became disillusioned by the political wheeling and dealing MDP saw as necessary to fight an authoritarian reversal, a constant threat during its two and a half years of democratic rule.
The MDP government sanctioned decision in January 2012 to arrest Chief Judge of Criminal Court Abdulla Mohamed, a key player in the autocrats' plans to end democratic rule, proved to be one of the most, if not the most, damaging decisions it took while in power, providing the opportunity for the long-planned authoritarian reversal to take place.
With the 7 February 2012 coup, MDP reverted to what it does best — democracy activism. With it has returned the idealistic grassroots support, and MDP appears to be currently enjoying unprecedented levels of support across the country. The intensity of MDP supporters' passion, arising from admiration of Nasheed and the desire for a return to democratic freedoms enjoyed during his government, has led detractors to describe them as followers of a cult with Nasheed as its charismatic leader.
Unlike the other four parties, MDP's goals, objectives and pledges have been clearly laid out and shared with the public. Its manifesto 'Costed and Budgeted 2013-2015', based on information gathered over months of door to door visits across the country led by MDP's presidential candidate, is available for download [in Dhivehi] on its website, and contains a range of policies geared towards sustainable development of the Maldives and Maldivians under a democratic government. It was launched to much fanfare on August 25, 2013.
Candidate: Mohamed Nasheed
Members: 45,666
For additional information and analysis, visit Minivan News