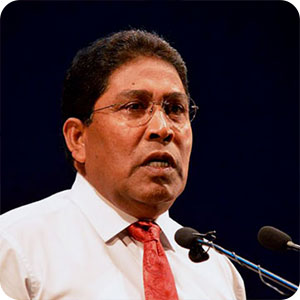 Candidate 1
Gasim Ibrahim (61) [or Qasim Ibrahim after re-branding for the campaign] is the candidate for Jumhooree Party. Gasim's main ally is Adhaalath Party, the most politically active 'Islamic organisation' in the country.
Candidate Gasim's defining characteristic, as put forward by him and his campaign team, is that he is the richest man in the country. Gasim is the owner of Villa Group, the largest company in the Maldives with 6000 employees. According to Gasim's Wikipedia page, although 'his net worth has not been made public', it is 'believed to be in access of 500 million dollars'. Gasim's properties include several luxury tourist resorts, uninhabited islands, and shipping, fisheries, fuel, construction and manufacturing as well as import/export companies. Gasim also runs Villa High School and Villa College, which, although money-making businesses, he also aggressively promotes as evidence of his philanthropy along with a large number of study loans he has provided for many Maldivian students to study abroad.
Gasim's chief selling point is his 'rags to riches' biographical narrative. Born to a blind father on the island of Dhiddhoo in the neighbouring Alif Atoll, his mother died when he was 39 days old. Gasim was brought up on Maamigili island by his grandmother and other relatives until he came to Male' at a young age, ending up as a servant boy in Endherimaage, the unofficial residence of Maumoon Abdul Gayoom. Gasim's chief patron in the house was Ilyas Ibrahim, Maumoon's brother-in-law. That Ilyas, a powerful political figure throughout Gayoom's reign, is now working under Gasim to promote his presidency, is another glorified strand in Gasim's poor boy made millionaire narrative. Another celebrated one is that Gasim, who did not receive any formal education, was awarded an honorary doctorate from the Open University of Malaysia in December last year.
Gasim's chief pledges are in line with his multimillionaire identity. In addition to laptops and iPads for all children and more materialistic goods to all voters and various constituencies, the Jumhooree Coalition has also pledged that a win for them would ensure everyone in the country will have the opportunity to 'be a Qasim'. Last Friday Gasim donated a large number of equipment — computers, air-conditions and LCD TVs to schools in Addu City, but has denied it is a bribe intended to influence the elections.
What Gasim's campaign carefully omits from all discussions about his wealth is his enormous debt. While Gasim was the Minister of Finance (2005-2008), the state-owned Bank of Maldives approved loans to Gasim's Villa Group worth almost US$ 40 million (US$37,601,520) — 32.4 per cent of the bank's entire capital. The Finance Ministry, which Gasim headed at the time, held a 51 per cent veto over any decision of the Bank of Maldives board, of which he was also a non-executive member.
Gasim is also presenting himself to voters as a champion of Islam and has formed an alliance with the 'Islamic party', Adhaalath, to 'defend Islam'. This part of his campaign appears geared towards the not insubstantial segment of the voter population that prefers a manifesto for the afterlife to one for here and now. Given Adhaalath's goal of making Sharia the only source of law in the Maldives, Gasim's alliance with the party means that a win for him is likely to bring the country closer to Adhaalath's dream of the Maldives as an 'Islamic state' belonging to a revived global Caliphate.
Personal Tidbits
Gasim has four wives, the maximum allowed for a Muslim man, and 12 children, seven boys and five girls. His oldest is studying for a Master's and the youngest is less than two years old. He also has six grandchildren. Gasim is reputed to have a hot temper and a reputation for not being the politest man in politics. One of his wives has said he is a very 'caring and sharing' husband who answers the phone no matter where in the world he is. Another says he is 'very kindly', and that he has never spoken to her in anger. Gasim has said that he married four women to increase his chances of having a son.
Why should you vote Gasim?
In his own words:
Maldivians would know very well that there is no other reason for me to contest these elections except to bring them the development and progress they want. If I were driven only by personal interest or my own business interests, I wouldn't need to be running for this position. Anybody who gives it serious thought will know that what I am doing is making their development certain.  In the same breath, every Maldivian who gives it serious thought will also be certain that I will not touch even a penny from our treasury; that I will not allow room for hatred to spread in this country; that I will get the economy back up and running; that with God's help I will establish justice to their satisfaction; I will not let our independence and sovereignty be disturbed even the slightest; and that I am ready to spill my blood on this ground in protecting our glorious and sacred religion and independence. Every person who gives this some thought will know that they must vote for me as President of the Maldives.
[RiyaaC Programme, MNBC One]
For more information and analysis of Gasim, visit Minivan News