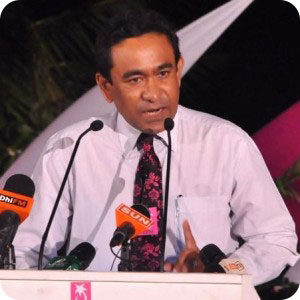 Candidate 3
Yameen Abdul Gayoom (54) [also known as Abdulla Yameen] is PPM's [Progressive Party of Maldives] candidate and brother of Maumoon Abdul Gayoom who ruled Maldives from 1978-2008. The defining characteristic of Yameen's candidacy is, in fact, this family relationship—a vote for Yameen, the electorate is told on a daily basis, is a vote for Gayoom; electing Yameen would be a re-election of Gayoom by proxy.
Yameen's chief selling point is that he is an economist and as such someone who can manage the country's bankrupted finances better than any other candidate. Giant billboards appeared all over Male' in the early days of the PPM campaign, some with quotations from famous world economists, as evidence of Yameen's economic competency. Yameen has also promised to concentrate on making things better for the country's youth, the most troubled and troublesome segment of the Maldivian population.
Several accusations of corruption, including alleged involvement in an international money laundering racket worth  US$800 million with ties to the Burmese junta have been levelled against Yameen. He denies the allegation and all others, describing them as 'baseless and unfounded'. Yameen is known for his tendency to sue for libel against anyone who makes or repeats such accusations, sometimes claiming millions in damages purportedly for no other reason than to 'vindicate his good name.' Apart from the promise to bring back the policies and characteristics of brother Thuththonbe's [Gayoom's] rule, one of Yameen's main pledges to voters has been his promise the plan to restart his earlier attempts to explore for oil in the Maldives. Most of Yameen and PPM's campaign has otherwise concentrated on criticising rival Mohamed Nasheed, the Maldivian Democratic Party candidate and others.
Personal Tidbits
Yameen has a hard time smiling, a fact which his campaign has sought hard to remedy with several friends appearing on MNBC One's RiyaaC programme with Yameen to insist on how much fun he really, really is. He is, the PPM campaign has insisted, 'a seriously funny man', and it is a mistake to view his normal 'reserve' as arrogance. Yameen has three children, oa six-year-old boy and two grown-up children. His wife Fathimath Ibrahim is an active member of his campaign, although both his older children he says, absolutely hates the fact that he is in politics. When he appeared on the RiyaaC programme, he was shown relaxing at home with a book which, on close inspection, appears to be Heart Work by Chan Chin Bock [Publisher: Singapore: Economic Development Board] – more evidence of his competency as an economist.
Why should you vote Yameen?
In his own words:
The only viable option for any Maldivian who wants to make their lives better is to vote for me. [Why?] Because the biggest challenges we currently face are in the economic sector—problems in this area are permeating all others. Why is the health sector not developing as it should? Why cannot we add a new classroom to a school? Why aren't there more doctors, more foreign doctors? Why are we short of IV fluid? These are all budget, money, dollars and sense, Rufiyaa, Laari, aren't they? So, to find out how to earn Rufiyaa Laari, to understand how to spend Rufiyaa Laari with the least amount of waste and knowing how to draw the political map is the only way to draw the map and get there. Is it not? That's why I have said a person who comes to the leadership will come with the aim to do something, not to continue business as usual. That's why I want to say to all Maldivians: if you want to seriously change things for the better, there's no need to look at any other candidate in my opinion, okay?
[RiyaaC Programme, MNBC One]
For more information and analysis, visit Minivan News