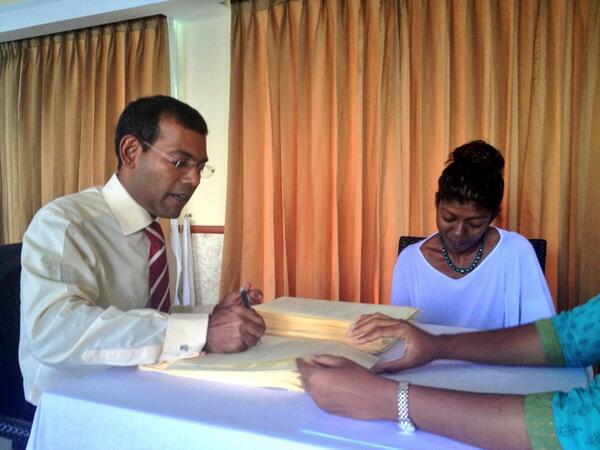 Mohamed Nasheed must be the busiest man in town. For the last 500-odd days Nasheed has been moving non-stop criss-crossing the country, dropping into every other house for a chat, and walking every street of Male' going from door to door, from morning to night. His energy is truly astounding. 'How does he do it?' people wonder aloud. Then they stop wondering and try to keep up, working harder (almost all voluntarily) than they had ever before, for the same purpose as Nasheed: to restore democracy in the Maldives.
A visiting foreign journalist asked me two days ago if Nasheed can inspire people. Apparently, Maumoon Abdul Gayoom has expressed the opinion that Nasheed cannot be a proper leader because he cannot do so. To be inspired by Nasheed you have to see him at work, and see the commitment he brings to the cause.
Today began with a round of ten minute one to one interviews with twelve journalists from various media outlets in the country. I am second last on the list of local journalists, before JJ Robinson, the editor of Minivan News.
Nasheed is multi-tasking. He is listening to questions and answering them, all the while he is signing letters he will send to all 240,000 plus eligible voters in this election. He could have let the signature be printed, but that won't be him. Each letter has to be signed personally, so he has at least a thousand of them with him whenever he sits down. When he went to Colombo earlier this month to meet Maldivians voting in Sri Lanka, the letters he took with him to sign weighed over three kilos. He used to sign 1000 letters an hour, now it's up to 1300-1400 an hour. I find it slightly disconcerting, talking to someone while they are doing something else, but his ears are mine for ten minutes.
'If you are elected, how do you plan to deal with the Baaghees [coup-makers]?' I ask. Nasheed's insistence on magnanimity as the best solution for the legacy of pain Gayoom's torture tactics left behind has meant a large number of Maldivians are still waiting for justice. I have talked to hundreds of people about their views on how to deal with Baaghees if they are no longer in government. The word magnanimity was not in their vocabulary. Justice is what people want.
'An MDP government will make sure they are dealt with according to the law. Investigations will be carried out, the Prosecutor General must prosecute on behalf of the State, and judges must give proper verdicts.' Rule of law, Nasheed says, is the answer.
'But we don't have an independent judiciary. How can we assure justice for the people without one?' I asked. Judicial reform will take priority in a Nasheed government. 'Implemented on a parallel tract [to prosecution of the Baaghees] will be efforts to reform the judiciary.'
Some key figures in the local legal and political sectors have floated the idea in recent times that judicial reform will require a constitutional amendment. 'It is not appropriate to play with the Constitution. What we need is a good judiciary, capable and willing to interpret it well,' Nasheed said. What he said will happen for certain are changes to the Judicial Service Commission, one of the key forces in obstructing judicial reform during Nasheed's government.
All contesting parties—(even PPM) have brought out manifestos in recent days. The pledges are very similar. What makes MDP's different except for being 'costed and budgeted'? A good manifesto, Nasheed said, comes out of a good consultative process. 'Manifesto building', is what he called the process. 'That's what MDP did, and that's why MDP's manifesto is different from the rest.'
There is so much I want to ask him, but I have only ten minutes. I know the ten others before me would have asked about all the 'serious stuff.' I want to know more about Nasheed, the person.
After living such a hectic life for the last eighteen months or so, visiting three islands a day on average, how will he cope with the change of pace? 'I will be just as busy,' he said. 'Of course, I won't be able to travel as much, or meet with as many people. I do like other work,' he smiles. 'The work [in government] will be more technical, I really enjoy that, too.'
Nasheed admits, however, that he will miss the travelling, especially meeting with the people. If elected, he intends to dedicate one day a week to continue the Door to Door policy launched during the current campaign. The most valuable lesson he learned from visiting all those houses, he said, is that 'nothing is small.' What someone tells him when he visits them maybe a story about their gutter, their roof, or their sewerage pipe. They may seem trivial, but it is these stories that help reveal the big picture. 'Look after the pennies and the pounds will look after themselves.'
How confident is he of winning the election? His response is the beaming smile that has won him thousands of more supporters over the course of the last year and a half. 'It's a forgone conclusion', he says. 'All the signs are there, all the evidence is there,' for an MDP win in Ehburun [One Round].
'Unless', he adds, 'something completely outrageous happens.'
It's all over too soon. We shake hands, and before I left he wonders aloud why Dhivehi Sitee was the only media outlet to have interviewed him in English. I told him a few others have complained about Dhivehi Sitee not being in Dhivehi. 'Why is it a bad thing?' Nasheed asks. 'It's just a wider interpretation of what a Dhivehi Sitee can be.'