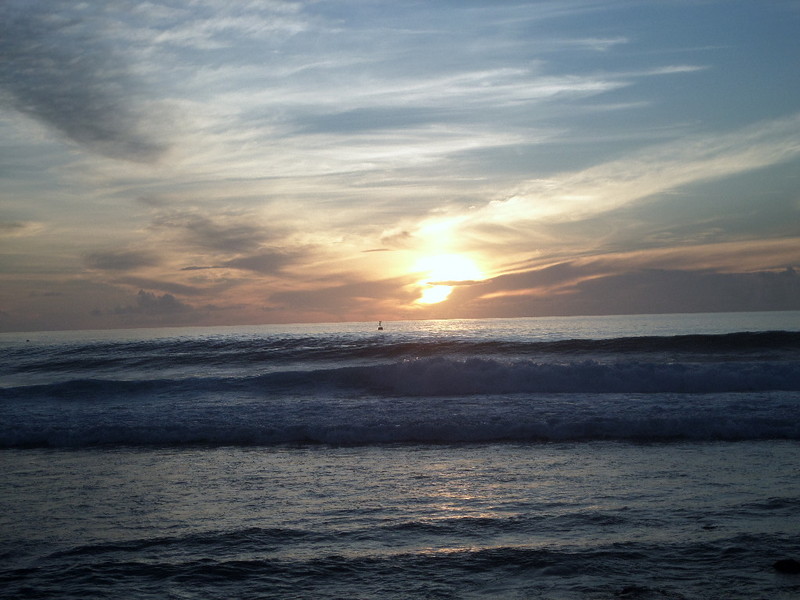 The sun comes up on polling day, over the Eastern sea wall of Male'
The sun just rose on the fifth day a presidential election is scheduled to be held in the Maldives in just over two months.
On 7 September 2013, over 200,000 people, 88% of eligible voters, cast their votes. 45.5% (95,224 people) voted for MDP candidate Mohamed Nasheed, 25.35% (53,099 people) voted for PPM's Yameen Abdul Gayoom, 24.35% (50,422 people) for JP's Qasim Ibrahim and 5% (10,750 people) for Mohamed Waheed Hassan Manik.
The second round, scheduled for 28 September was first postponed, then annulled by the Supreme Court on 7 October in a case submitted by JP and supported by PPM. All attempts to hold the election on that day were stopped by the security forces, as ordered by the Supreme Court. A second first round was scheduled for 19 October according to new elections Guidelines by the Supreme Court. Despite all preparations in place, PPM and JP candidates refused to sign the voters registry, switched their phones off and went into hiding. Maldives Police Service refused to provide the necessary protection to the ballot boxes in a move that breached their oath and the Maldivian Constitution.
Amid condemnation from the Human Rights Commission, the Police Integrity Commission investigated police actions and held a lone policeman responsible for obstructing the entire election. Elections Commission set a new date – 9 November. And, if necessary, a second round on 16 November, today.
There were many attempts to obstruct the 9 November election too. In the two weeks that Elections Commission chief Fuwad Thowfeek and his team needed to prepare all over again, both PPM and JP came up with several reasons for which they could exercise their Supreme Court-given power to veto the election: re-registration process was too lax, fingerprints were not taken properly, fingerprints needed verification. In the end they buckled under pressure from the international community—serious threats were made, reports say, of sanctions from the UK, United States, EU and other democratic actors—and agreed to hold the election.
There was also intense domestic pressure. According to the Constitution, a new leader should be elected at least 30 days before the end of a current presidential term and the new president must be sworn in on the last day of the term. With the uncertainty over elections, the People's Majlis passed a resolution to install Speaker Abdulla Shahid as President, with all powers assigned to the office if there was no elected leader by midnight on 10 November. Combined with the international pressure, the Majlis resolution galvanised PPM and JP  into attempting to bring the election forward to 2nd November. The Elections Commission refused, but agreed this week to bring the second round forward to 10 November if one was necessary.
The first round went ahead as scheduled on 9 November. Mohamed Nasheed got 46.93% (96,764) votes, Abdulla Yameen 29.72% (61,278) and Qasim Ibrahim 23.35% (48,131) votes. Despite the chaos and unrest in the two months since the first first round there was only a small reduction in voter turnout. On 7 September, out of  239,593 eligible voters 211,890 ( 88.4%) voted. On 9 November out of 239,105 eligible voters, 208,504 (87.2%) voted registering a 1.2% drop.
Between the results being announced and the second round scheduled for the 11th, there were only a few hours. At 5:30 in the morning the Supreme Court published a new 'ruling' on its website. The document was written on official paper but carried no signatures. It forbad the second round on the 11th and ordered that it be held today.
On 10 November, less than half an hour before midnight, Dr Waheed who dropped out of the race with only ten thousand supporters and no running mate, appeared on national television to say he was staying on beyond the presidential term. He refused to accept the Majlis ruling to install Speaker Shahid as President, criticised the Majlis for not amending the Constitution to allow him to stay, and said he will follow the illegal ruling of the SC instead which overruled the Majlis resolution. On the morning of the 11th, the Chief Justice refused to administer the oath to Speaker Shahid, ensuring the Majlis resolution could not be enforced.
On 14 November, while PPM and MDP were separately gathered on the eastern side of Male', Waheed quit and left for Macau with a suitcase packed with MVR500,000 and a wife who is said to be needing surgery. Before that, on the same afternoon, after pretending for a day to be considering endorsing Nasheed, Qasim Ibrahim went with PPM, forming an Anyone But Nasheed alliance with PPM, Adhaalath and some others.
Both sides held their last rallies yesterday afternoon. Mohamed Nasheed and MDP were on foot walking and dancing, Yameen and his new 'Together' PPM alliance of leaders and supporters were on small trucks waving from behind large pink balloons.
All the campaigning is now over. Male' hasn't fully woken up yet, but it will soon. In one hour from now (7:30 a.m.), polling booths will open. It is hard to predict what the day will bring, what the results would be, or what would follow the results. At the end of today who will be the new President of the Maldives? Will Maldives vote to restore democracy or for a return to dictatorship?
LIVE UPDATES
8:33 am Queueing to vote in South Henveiru T03.1.1. People began queuing shortly after sunset at polling booths all over Male' and leave with a proud smile once they've voted. I waited 45 minutes to vote.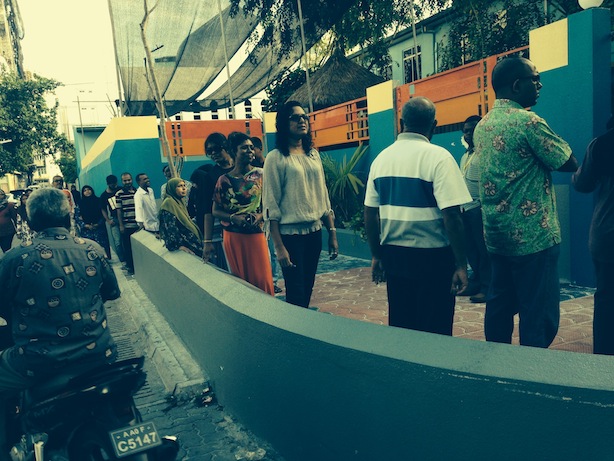 Queueing to vote in South Henveiru T03.1.1
11:00 am Voting continues in Male'. The busiest polling station this morning is Majeediyya School, where Addu City's Male' vote boxes are.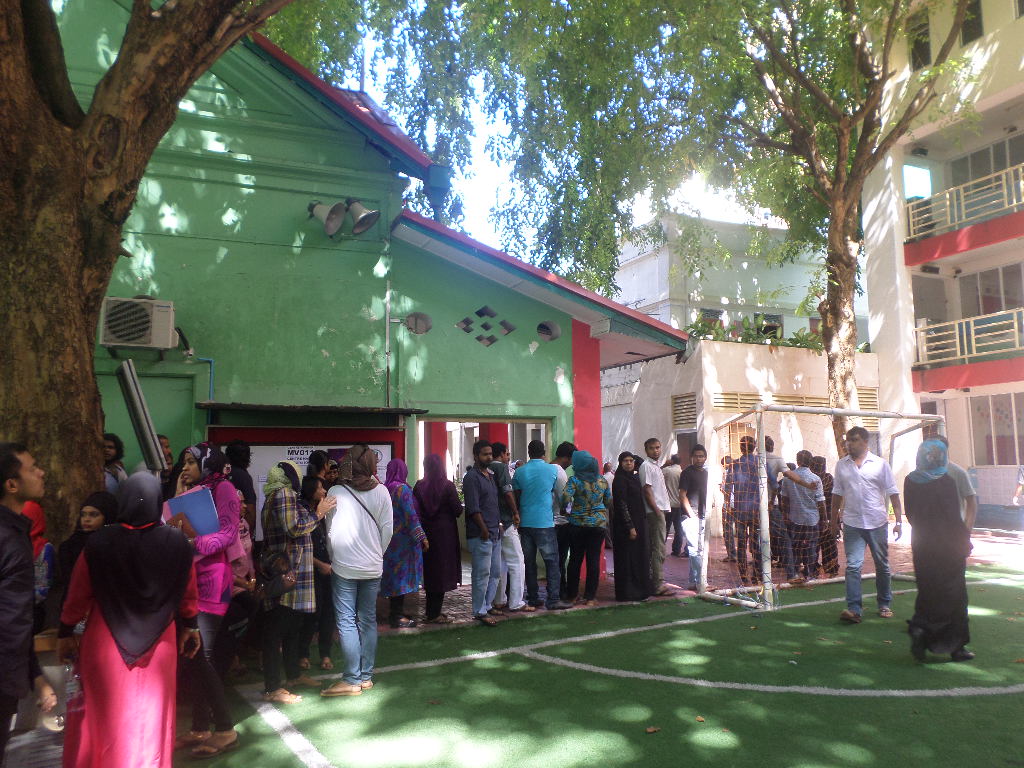 Queues in Dharumavantha School on the other side of Majeediyya are just as long, and orderly.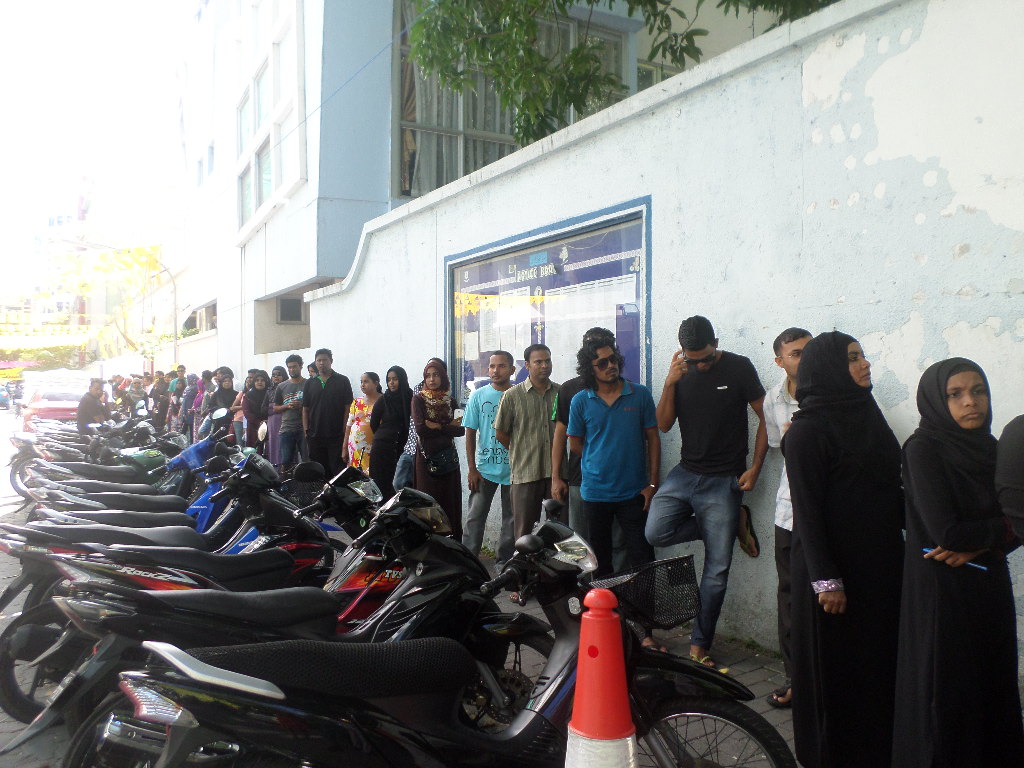 Queue outside Dharumavantha School
Inside Dharumavantha School is like a haven from the blistering heat outside. Voters wait patiently for their turn under the tall trees. This is the polling booth for people of Lhaviyani Atoll in Male'.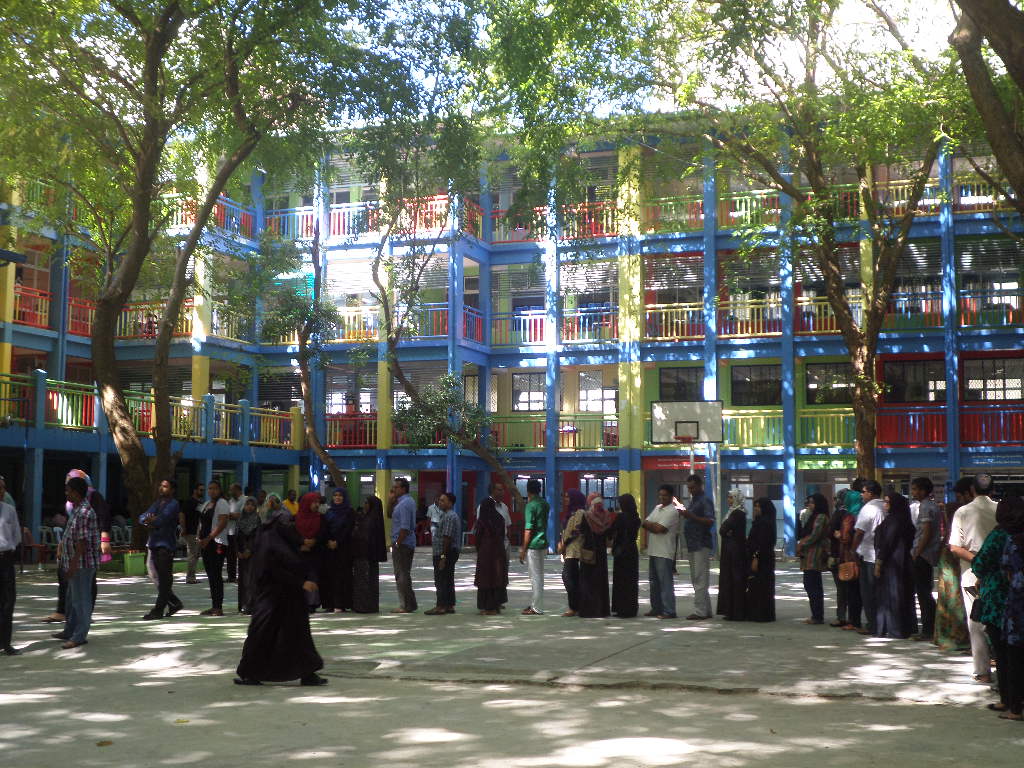 Under the trees, waiting to vote
11:14 am This time of the morning, there aren't too many people at the Huravee Building booth. Slow and steady.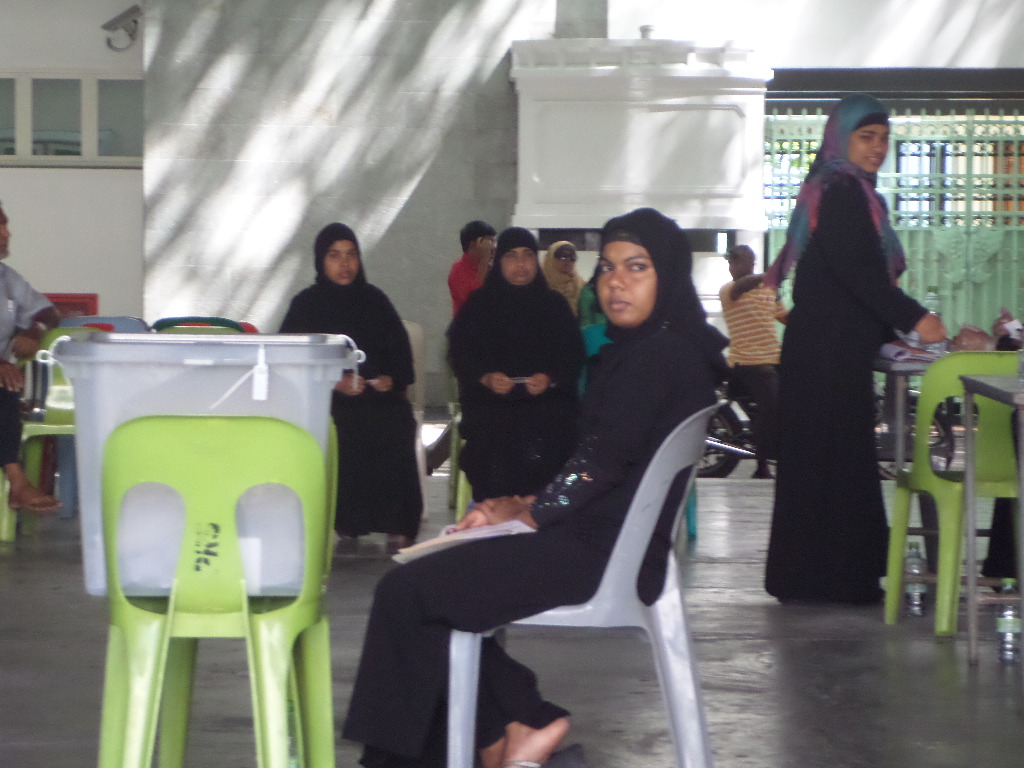 Voting in Huravee Building. HulhuHenveiru Box
11:23 am Mohamed Nasheed just voted in CHSE reports CNM.
https://twitter.com/cnmmv/statuses/401595780907028480
Just half an hour before Nasheed came to vote at CHSE: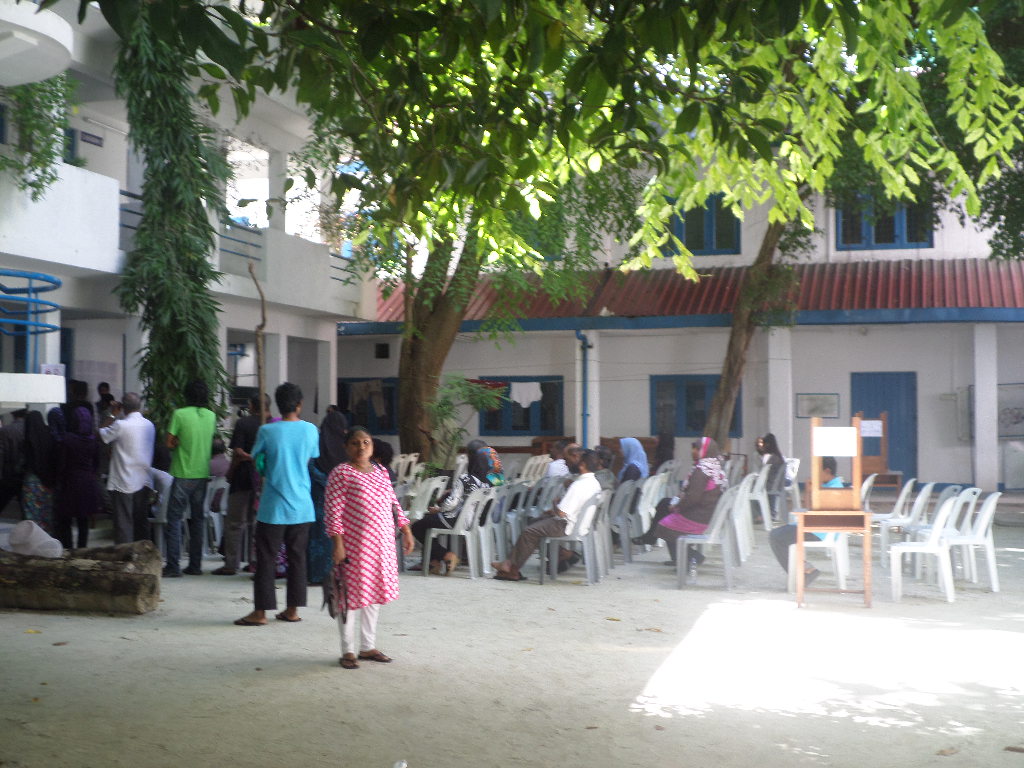 People waiting to vote in CHSE
Meanwhile, on the other side of CHSE, normal life continues for scores of sightseeing tourists in Male'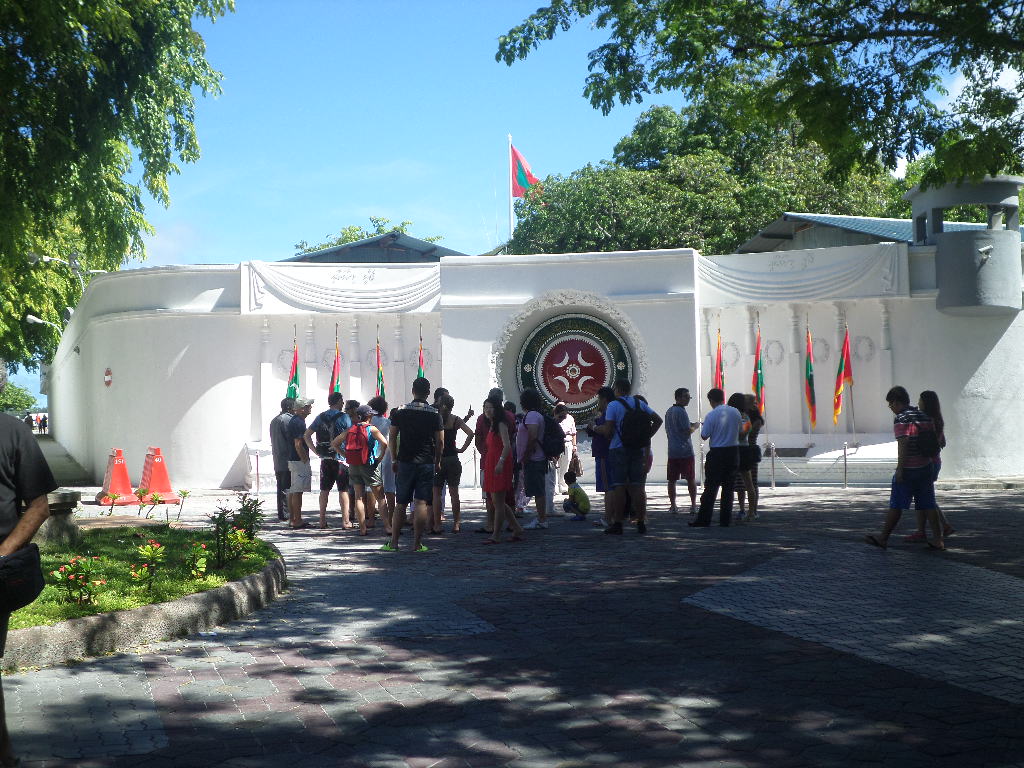 Tourists sightseeing, unaware of the election going full speed ahead
And the police rest: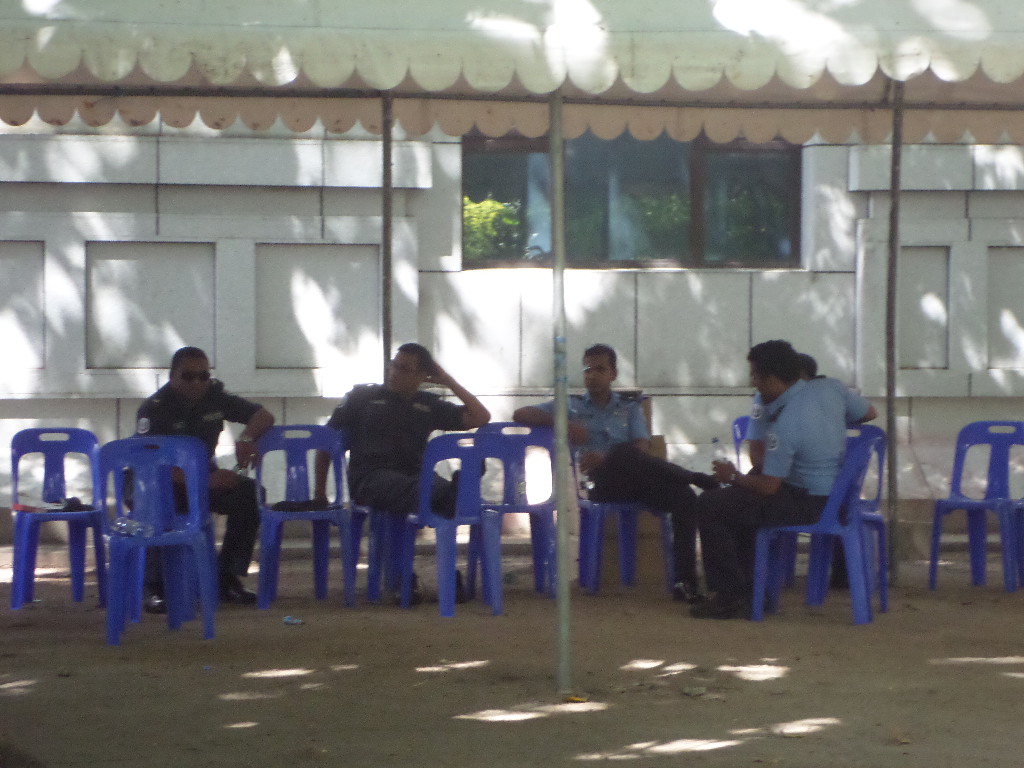 Police rest in Sultan Park
11:56 am Yameen's PPM has given a press conference to say they are not happy with quality of the ballot paper. Not enough security features, it seems.
12:00 pm Police reports they have arrested a total of 28 people so far – 26 men and two women – for displaying their ballot papers
2:46 pm Crowds are now thinning near most ballot boxes, reports Raajje TV. Maldivians have a habit of waiting until the last minute for everything, so a surge in the next hour is very likely.
2:48 pm Get your dancing shoes on. Male' City Council told Raajje TV just now that people do not need permission to party for 24 hours when the election results come in.
2:51 pm Gasim Ibrahim, the candidate who lost in the first round and had it annulled voted a few minutes ago.
2:53 pm Male' City Council may have given permission to party for 24 hours, but in this constitutional vacuum, there's no authority to say whether tomorrow is a holiday or not.
3:01 pm A PPM supporter goes to cast a secret ballot on the island of Fuammulaku
Guidelines ge namoona beyflheh. pic.twitter.com/vgPdLnSOzR

— NzRv 4 4 (@NzRv) November 16, 2013
3:13 pm Parliament is preparing the oath taking ceremonies for the new President and Vice President tomorrow. It is still not known whether tomorrow will be declared a public holiday.
3:16 pm Lots of reports coming in of police detaining voters for displaying their ballot papers after ticking them. Is this a new way of invalidating ballots? 3:26 pm Elections Commission holding a press conference. All vote boxes, except the one in London will close at 4:00 pm.
3:27 pm Some people [PPM] have raised questions about quality of paper used for ballots. Fuwad Thowfeek insists paper is of higher than normal quality. Regarding complaints about security features, Fuwad Thowfeek says they are fully integrated into the paper, and may not be obvious to the naked eye.
3:28 pm There are security features on the ballot papers. Of course, I won't be revealing what and where – for security reasons. Fuwad Thowfeek continuing to answer PPM's recent complaints.
3:34 pm Talk about the indelible ink being easy to wash off is not true, Fuwad says. 'I have tried to wash mine off, have even used soap, but the ink is still here', he says.
3:35 pm Elections Commission says that most complaints are coming in because people have been stopped from voting because their addresses on ID card and DNR database do not match. There are also complaints about campaigning and anti-campaigning as well as of people displaying their ballot papers.
3:42 pm Just because the ballot papers are printed in black and white does not mean they lack security features – Manik, Elections Commission.
3:46 pm We can give you 100 percent guarantee that we will not be counting any ballot papers that are not authentic – Fuwad Thowfeek.
3:47 pm Votes of those who display their ballot papers will remain valid, but steps will be taken against the voter who made the display.
3:52 pm Police have announced that they are taking statements from the voters displaying their ballot papers and releasing them.
3:57 pm If someone's name is not on the Voter Registry, even if by our negligence, the person cannot vote anymore. This is a result of the Supreme Court guidelines.
4:00 pm Polling booths close across the country and abroad. Only one remaining open is London which will close at 10:30 p.m. Maldivian time. People already in the queue at their designated ballot boxes will be allowed to vote. Fuwad Thowfeek says all results except London's will be in by about 10:30-11:00 pm tonight. Provisional result can be announced by midnight tonight and the official result tomorrow morning.
4:07 pm Henveiru Dhekunu voter turnout was 85%
4:10 pm Vote boxes closing across the country https://twitter.com/JuneAbdul/status/401668017982939136
4:15 pm Chief Elections Commissioner Fuwad Thowfeek forced to spend precious time talking about weight of ballot paper and explaining that black and white print does not mean 'low quality'. All 'issues' rising from PPM's complaints earlier in the day.
4:40 pm Counting begins, and so does the anxious waiting. Streets of Male' are busy with people finishing up work and heading for black tea or coffee to wait with friends https://twitter.com/Velezinee/statuses/401681082619133952.
5:17 pm Latest results from mvdemocracy.com
60.68% Mohamed Nasheed 4,703 votes
39.32% Abdulla Yamin 3,047 votes
43 box counted, 432 remaining. Total 7,750. Time: 5:09pm.
5:21 pm Early results show Nasheed leading
55.39% Mohamed Nasheed 12,856 votes
44.61% Abdulla Yamin 10,355 votes
95 box counted, 380 remaining. Total 23,211. Time: 5:19pm.
Source: mvdemocracy.com
6:04 pm Current results from Raajje TV: Nasheed 48.72% Yameen: 51.28%
6:21 pm

6:24 pm
Using mvDemocracy data, MDP needs to score 54% in all remaining boxes to get to 50%

— Suckerpunch (@SuckerPunch199) November 16, 2013
6:32 pm PPM has majority in 16 atolls, says Raajje TV.
6:35 pm Tomorrow is not a holiday, the President's Office has said. Business as usual.
6:38 pm RTV has counted 61.33% of the vote. Here's the result: Nasheed 48.54  Yameen 51.46.
6:53 pm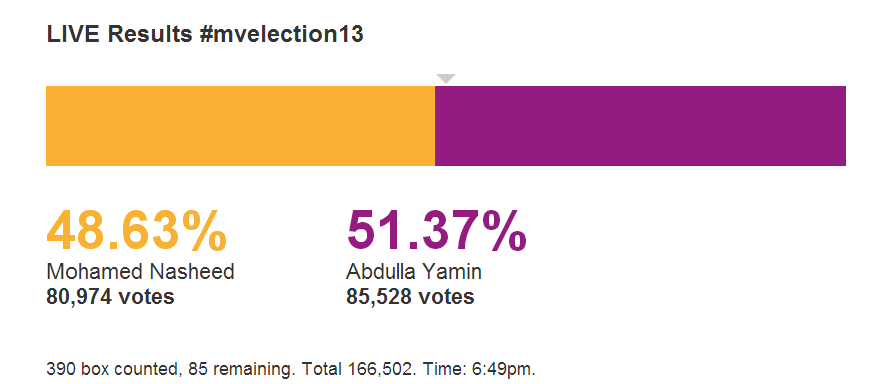 Source: mvdemocracy.com
7:23 pm Yameen is still leading 51.28% to 48.75%, says Raajje TV.
7:40 pm Latest results from mvdemocracy: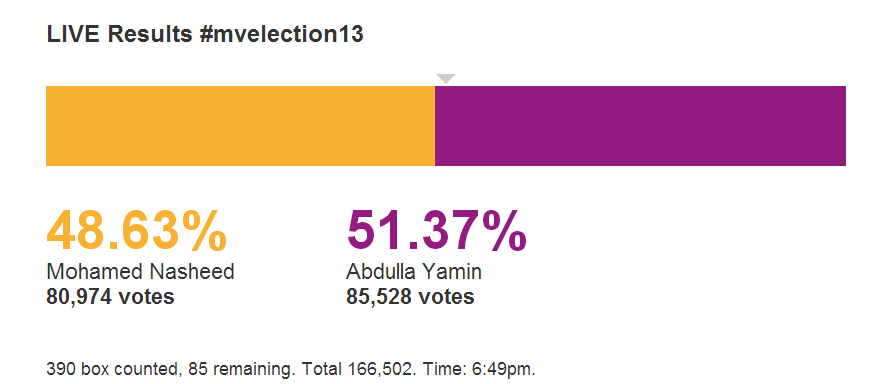 8:00 pm Yameen 107, 619 Nasheed 101, 695 votes according to Raajje TV figures
8:15 pm Several media outlets have called the 2013 Presidential Election for Abdulla Yameen Abdul Gayoom 08:50 pm Latest result from mvdemocracy.com with ten boxes remaining: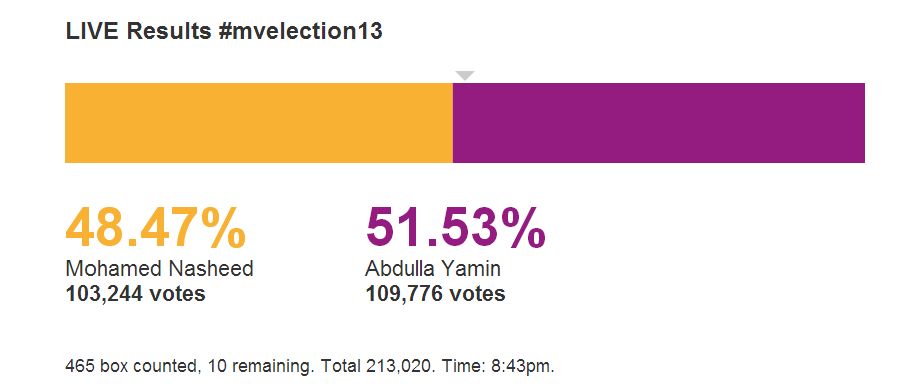 21:06 pm Mohamed Nasheed to hold a media briefing at 10:30 pm 21:10 pm All vote boxes, except the one in London, have been counted. Yameen Abdul Gayoom has won the second ever democratically held presidential election in the Maldives. Here is the result: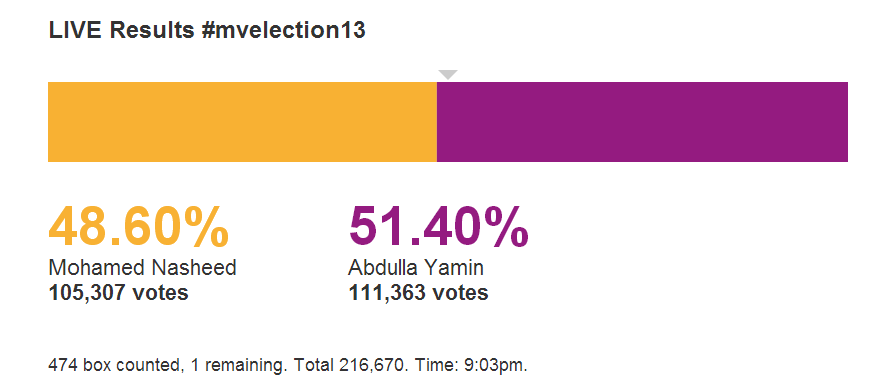 09:16 pm Gasim Ibrahim, the candidate who lost on 9 November and supported Yameen in this round, celebrates the election result:
https://twitter.com/Raajje_tv/statuses/401744515913883648</>
09:50 pm Gayoom appeals to PPM for 'calm celebrations' and quiet happiness
10: 19 pm The 'Together Coalition' of Yameen's press conference continues. So far, Maumoon Abdul Gayoom, Sun Travel Siam and Gasim Ibrahim have spoke. At the moment it is Sheikh Imran Abdulla of Adhaalath. Yameen, President Elect, is waiting his turn, assigned by Maumoon
 10:36 pm MDP has just begun a meeting of the party's National Council. Mohamed Nasheed is expected to hold a press briefing.
10:37 pm There are so many leaders in the Together Coalition, even they don't know each other's names.
22:46 pm Mohamed Nasheed is giving a media statement. He is gracious in defeat, and calls on all supporters of MDP to accept the election results. 'We should never change a gov any other way than by vote. Yameen has won a majority, however small. It is our duty to respect that.'
22:53 pm Yameen gets the opportunity to speak at last.
23:03 pm Yameen says he could not have done it without the country's youth, and says he will focus on finding a better life for them. PPM will remember people who do what they want and reward them for it, he says.
23:11 pm Nasheed has thanked the Elections Commission for their contribution to democracy consolidation in Maldives.
23:14 pm It is too early to say whether I would run in 2018 or not. Even if I want to do it, it will depend on what MDP wants and also the timing, Nasheed tells the media.
23:25 pm Results from the last remaining vote box, in London, has come in 73% won by Nasheed, 26% by Yameen
23:39 pm Total result of the second round of the second democratic presidential election of the Maldives, held on 16 November 2013: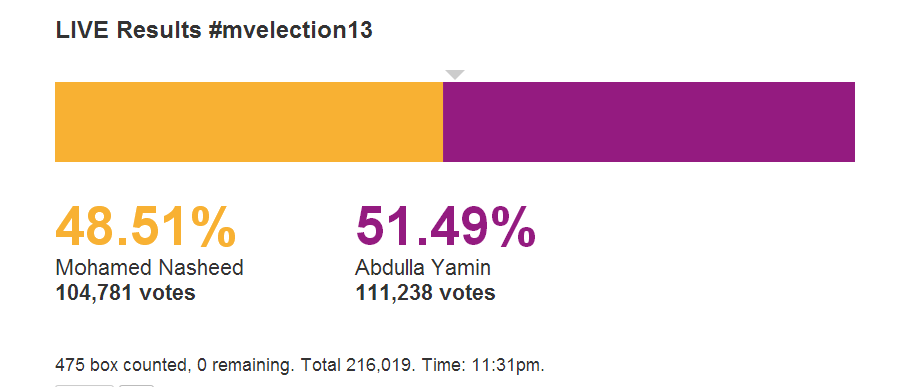 00:15 Inauguration of the new President Abdulla Yameen and Vice President Mohamed Jameel Ahmed will be held tomorrow (Sunday) morning in the Parliament at 10: 30 am.
Good night.