MNDF entices the young with real guns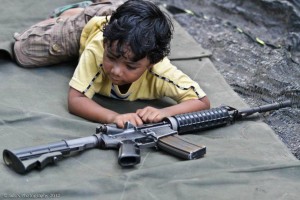 by Azra Naseem
The Maldives National Defence Forces (MNDF) has been on a nation-wide campaign to 'win hearts and minds' since the coup of 7 February.
Led by Defence Minister Mohamed Nazim, appointed to the post on 8 February and one of the coup's chief operators, security forces have been travelling the length and breadth of the country, telling people how fabulous they are, and how much they love to serve and protect Maldivians.
International Children's Day this year brought with it a new photo-opportunity for the MNDF to display not just their enduring love of the people, but also, it would appear, their intentions for the country's future.
The photos, which show children as young as two or three years of age with war-paint and machine guns, are truly shocking. despite public outrage on social media networks, there has been no response from the MNDF or the Defence Ministry. Nor have the country's most popular Dhivehi newspapers covered the story.
Things become worse when considered in light of the fact that these officers' Commander in Chief, President Dr Mohamed Waheed Hassan Manik, is an ex-UNICEF man in charge of defending the rights of children in various developing countries. Why would a man with such a background allow children to be used in this manner by the military? Surely he knows what the UNCRC says, even if his Defence Minister remains blissfully unaware, as he is of most international conventions and State Party obligations.
However much coup leaders may deny there was a coup, or that elements of the military were involved in its execution, such practices demonstrate the extent to which military-thinking and issues are becoming dominant in Maldivian society since the 7 February coup.