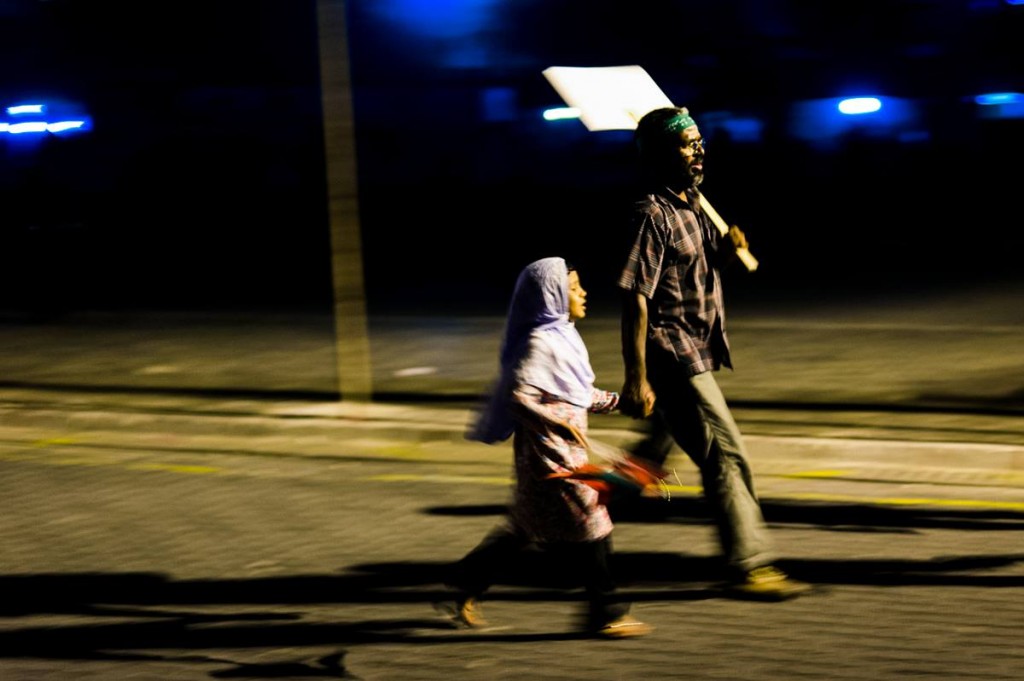 Maldives ends 2015 poised at a decisive moment for its future. Two visions for the country grip, and divide, the population at a deep level. The vision of Maldives as (a) a rights-based democracy where life is chaotic but vibrant and thriving, or as (b) an autocracy that enforces strict Islamic Sharia and takes people away from modernity and its complexities to a simplified world ordered in centuries long gone.
The fault line is invisible, it is often unspoken, but it exists, informing and governing people's beliefs, their practises, and perspectives; curbing or allowing what people are able to say, think, and do. Stemming from, feeding into, and reifying, this major division are other interconnected issues of ideological and socio-economic conflicts. There are divisions between secularists and adherents to the constitutional stipulation demanding a nation of Muslims and only Muslims; between Islamic schools of thought; between the rich and the poor; the educated and the uneducated; the landed-gentry in Male' and 'the islanders'; the rebellious activists and the obedient followers; the 'good Muslims' and the 'bad Muslims'; even the spurious division between the political and the a-political; and, particularly, an alleged division between Maldivian and un-Maldivian. These divisions, and their agitations for legitimacy often at the expense of the other, defines much of life—how it is seen, heard and lived—in Maldives at present.
Framing life
An example of how these visions and divisions frame not just people's understanding of how and why events happened, but also how they see unfolding events is 7 February 2012, when the country's first democratically elected government came to an end. Most of 7 February's public events are recorded on television and radio. Many events occurred live on camera. But whether a Maldivian, witnessing the same events as they occurred, saw President Nasheed's resignation as forced or voluntary depend on which of the two visualisations of Maldives they had previously embraced. The same videos, the same facts, the same images, when put together by mind-sets on two sides of the divide tell two vastly different stories. And, depending on their narrative, what happened on 7 February—the end of the first democratically elected government led by Nasheed and Maldivian Democratic Party—is concluded as (a) a good thing; or (b) a bad thing. Those who see it as a good thing work to keep the current government in power; those who do not want a return to democracy.
This frame can also be observed in the perspectives from which the events of 8 February are viewed. On that day Maldives Police Service (MPS) and its SOs, unleashed brutal force against those who saw Nasheed's resignation as having been made under duress. It was all documented, the beatings, the blood, the chasing after Nasheed on the streets of Male'. Whether one sees the force as violence—or justifiable and proportional response—depends on whether one wants Yameen's autocracy, or democracy with MDP. The perspective that Maldivians adopted to view the events of 7 & 8 February 2012—in favour of autocracy or democracy—has shaped and formed the present condition in which we find ourselves: at a cross-roads between freedom and submission. Freedom to be a person with rights as defined in the UN Declaration of Human Rights and to be governed by the rule of law, or submission to political dictatorship, more likely than not accompanied by religious hegemony of Revolutionary Islamist thought.
This is not to say that the divide is always so clearly cut and clearly separate from each other. Not everyone who has joined MDP are democrats; not every democrat has joined MDP; and nor is everyone who wants an autocracy a latent Jihadist. There are many intersections where the two main divisions merge and the picture becomes somewhat murky. Not all members of MDP are in the party because of its stated commitments to democracy, some are there because it is the largest party with most members, and therefore most popular. And MDP has not always stood up for the principles of democracy it aspires to. The same way, there are autocrats who do not want Saudi-religious hegemony in Maldives, but are too concerned with their own ambitions within the regime to discuss it in the open. There are both autocrats and democracy supporters who fund and facilitate the Wahhabis, the Salafis and other Revolutionary Islamists. There are billionaire resort tycoons from both sides who assuage their religious guilt for profiting from the sale of non-Islamic products by donating to the Salafi and Wahhabi missionaries. Similarly, several MDP MPs have voted for extra-legal amendments to the Constitution. Essentially, there are people who weave in and out of the two divides, with nothing but greed and ambition guiding them.
At the level of the Executive, Yameen is only interested in extending his term. Being a man of less than average religious inclination, he does not care what persuasion of Islam becomes dominant in the Maldives as long as he can continue as ruler. He will stay on whichever side allows him the longest leash. Saudi Arabia and China, with no demands to conform to universal values of democracy, make the perfect partners. Like the Saudi Royal family whose lives within their courts and abroad remain unmoored by Wahhabi interpretations of Islam, Yameen and his extended family and supporters can continue to enjoy access to Western education and social freedoms while the rest of the population is left to grapple with the consequences of outsourcing religious thought to the Saudis. Yameen has no friends left in the world of democracy, so he pursues a realist foreign policy where his allies are favoured according to how unlikely they are to ask him to conform to universal ideals of democracy that weaken his power. Democracy comes with conditions attached; it requires playing by supposedly universal rules and values based on a charter of human rights. Autocracy comes with no such requirements. Yameen is not worried by the religious unity agreement with Saudi Arabia and its effects on the people, he is concerned about the money it brings and the likelihood of it lengthening his tenure.
At the grassroots level, too, lines sometimes get blurred between democracy supporters and those who want autocracy. This happens most where there is a deficiency in knowledge about democracy itself. The idea of fighting for a system of long term benefits for everyone  is not sustainable without the ideological conviction that makes the long wait worthwhile. Sadly, the thriving civil society sector which came into its own during the fight for democracy and during the transition period, is now almost dead, deliberately stifled by the current autocracy. Registering an NGO involves cutting through huge amounts of red tape, only to be turned away for no reason except the authorities do not like its purpose. Only a couple of NGOs have survived, with skeleton staff and a skeletal budget. In the absence of a strong civil society, the task of democratisation falls on MDP, the leader of democratic thought in Maldives. This is not an ideal scenario for whatever else it is, it is first and foremost a political party. While MDP has been, and still is, in a position to mobilise large support in an impressively short period of time for any of its causes, its recent focus has not been on strengthening democracy in general, but on securing the party as one that still fights a specifically Nasheed-led battle for democracy. Lately, MDP has shown little energy and will to also take the lead to re-energise democracy at grassroots level. Given the full-frontal, all guns blazing attack  on the party by Yameen and his cronies, and the increasing apathy of the general population, this is not entirely surprising.  The result is that while there is coordinated efforts being made by the autocrats and the Islamists to get the public to accept their ideological and political stances as the 'correct' way; the 'right' way; the 'Islamic' way; there is considerably less such efforts being made by democrats to explain why democracy is such a good thing for the Maldives.
The political and ideological divisions also affect people's perception of how just the Maldives justice system is. Those wearing democracy goggles see a justice system gone entirely haywire, lost touch with rule of law, and have empowered autocracy. Those who see autocracy as the best way to govern Maldives see the judiciary as an arm of the government, and not a separate branch of the State, thus justifying in their mind its injustices. In terms of the Islamists, they have chosen to ignore the injustices of the current system, which being also common law-based, is not worth even bothering about. Apart from pushing for Shari'a as the only way forward, they do nothing.
Both MDP and members of the remaining few civil society organisations rooting for democracy are also restricted in their actions, and scope of activism, by the government and Islamist narrative that encourage depictions of democracy and Islam as incompatible, and therefore to be discouraged. Democracy is portrayed as detrimental to development: why resist government plans to move entire populations into apartments in a reclaimed residential area called Greater Male' when it means having a bridge that connects everyone to Male', the capital? Demanding respect for the fragile environment over so-called development is, the public is told, a folly of democracy standing in the way of development. Hence the disbanding of local councils, the deliberate disintegration of the structure of local governance that was shaky to begin with. At the same time, many Maldivians are being persuaded to leave the country and join foreign wars for an Islamic Caliphate precisely because it favours democracy and, therefore, has become 'a land of sin'. The voice that disagrees has been silenced as Un-Islamic, however mired in Islamic thought and jurisprudence their expressed thoughts may be.