We had no intention of letting Nasheed interfere with the judiciary: Yameen to CoNI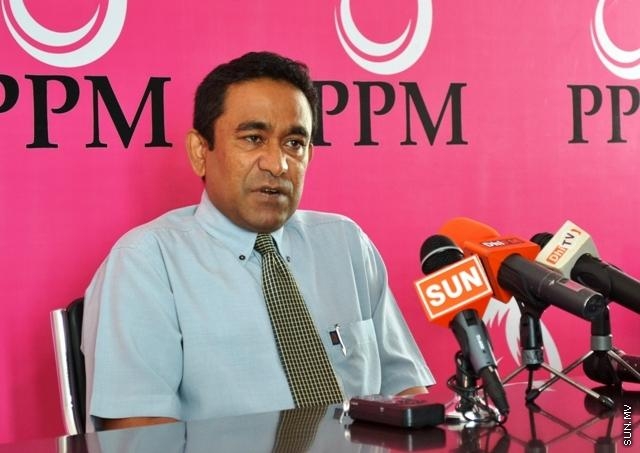 By Azra Naseem
Progressive Party of Maldives (PPM) Parliamentary Group Leader and 2013 Presidential candidate, Yameen Abdul Gayoom, gave a testimony to the Commission of National Inquiry (CoNI) on 30 April 2012 regarding the end of the first democratically elected government of the Maldives. This is a translation of parts of the testimony dealing specifically with the events leading to and on 7 February 2012, as told by Yameen.
PPM began leading demonstrations or protests when Abdulla Ghaazee [Abdulla Mohamed of Criminal Court] was arrested. Our primary concern rose from seeing then president Nasheed increasing his political power in the Majlis. That's why PPM decided to protest. These sentiments are shared by other political leaders working with us. We all believed President Nasheed was trying to consolidate all powers in his own hands. Article 115 of the Constitution gives the President certain authorities. President Nasheed was exercising more power than we found acceptable—more than is acceptable in a democracy—to create positions and to amend laws that restricted his powers. He was doing all this in the Majlis to usurp all powers into his own hands.
From then onwards, trust was an issue amongst us. It was getting very serious. All us political people, especially PPM, became convinced that these efforts were an attempt to completely sideline the Constitution and just take all three branches of power into his hands. We saw the arrest of Abdulla Ghaazee as a manifestation of this. For Nasheed, some parts of the criminal justice system were a problem. This, therefore, was an attempt to meddle in it. We, the PPM, decided then that we would not let it happen. Arresting a judge, the chief judge of the criminal court, that's one thing. There was, at the same time, also the problem of interfering with the judiciary.
In all this, my position as a member of parliament worked to our benefit: we got the opportunity to run a parallel assessment of the situation, an oversight type of exercise,  from within the parliament. We summoned Abdulla Ghaazee to the National Security Committee. I don't know the date, but it was some months before he was arrested. It was in relation to a complaint filed by MDP. I was the Chair.
The issue was why Abdulla Ghaazee's court was releasing major criminals. Abdulla Ghaazee came with tons of documents showing how cases had been filed, reasons for release—he brought some very confident print-outs. Here you can really register their dissatisfaction, unhappiness, with Abdulla Ghaazee. We had the benefit of being in possession of this knowledge.
We also summoned Moosa Jaleel to the Committee. Sorry, Moosa Jaleel was summoned to the 241 Committee, and so was Police Commissioner Faseeh. We wanted to find out the details of Abdulla Ghaazee's arrest.
Because we were privy to this sort of information, we did not in any way want to tolerate the level of interference Nasheed was planning to run in the judiciary. We absolutely did not want to accept that. So, to free the judiciary—and because this is symbolised by Abdulla Ghaazee's arrest—we, the PPM, took the initiative and began these protests. Other opposition parties, and the Madhanee Itthihad too, participated.  We did this work for, if I recall correctly, twenty-one days.
In the midst of this, I went to Singapore for about a week, partly because a family medical trip had been planned. I came back on the night of the Sixth.
These protests and all, they were not intended for bringing down the government. Nor were they held in anticipation of it. We wanted to continue, relentlessly continue, the protests until Abdulla Ghaazee was free. That's why we began the protests and we were not going to stop until it happened.
So, I came back on the night of Sixth [February] around 11:00. I knew there were two protests on two sides but, that night, I did not feel like participating in either. I just wanted to retire for the night, so I went home and slept.
Around daybreak, the house phone rang persistently. A servant answered, and brought the phone upstairs. Our party Deputy Leader Abdulraheem wanted to speak to me urgently.
When I returned the call, he updated me on the situation.
"Police, from among the security forces, were protesting at the Republic Square." Until then, I had no idea.
"Various political leaders are making statements. A senior figure from PPM should do the same. Why don't you go on VTV to make a statement advising, or encouraging, police and military to remain within legal boundaries? Or, if you prefer, a crew is ready to be dispatched to your house."
I decided to go to VTV. I got ready for the statement. The anchor introduced me, 'I am in the studio with the Mulaku Atoll Member…'
At that moment, the CEO of VTV Khaleel, no Ameen, came in.
"Stop. Don't show Yameen yet. We have already been attacked once this evening. From what we know, an MDP group has left the Republic Square and come into the inner city. If Yameen appears on VTV, we'll be attacked again. I'd really appreciate if you didn't do this," Ameen said.
So I didn't get a chance to speak. I even remained in their waiting room for a while, to give an interview when things subsided. After about fifteen minutes, they decided it was unwise for me to give an interview right then, in case of further damage to their studio.
I spent altogether about half an hour at VTV, went home, and watched television. I had overheard in VTV that a police/military confrontation was imminent. I watched until it was over in the morning, then went to bed hoping for a couple hours' rest. But I couldn't sleep for long. By some time past nine, I think, I was up.
I had two missed calls from Ibu, Ibrahim Mohamed Salih, Hinnavaru MP and MDP Parliament Group Leader. That was between nine and ten. I can't tell you the exact time.
"Yameen, President Nasheed has decided to resign," Ibrahim Mohamed Solih said to me on the phone.
"What you can do is ensure his personal protection, personal security. Guarantee it," he continued.
"I have heard what you are saying. But President Nasheed is…I would like to hear it from President Nasheed himself…otherwise…"
"I will arrange it. President Nasheed will call you shortly," he said.
But that call did not come that soon.
Around 10:00, from what I recall, I received an SMS from Indian High Commissioner, ambassador Mulay. It' s urgent, a time of national crisis, he said. Mulay requested a meeting. A little background on this—I meet Mulay on his request from time to time to discuss political issues. He had requested a meeting before I left for Singapore, too.
"Perhaps when I return," I told him. I was taking a daytime flight.
So, when he requested the meeting on this day, I agreed. When I went to see the him it was between 11:00 and 12:00. Again, I cannot tell you the exact time. The High Commissioner was alone in his office.
"Yameen, can you negotiate a three-day period for Nasheed in which to sort all this out?" Mulay said.
"What do you mean?" I asked.
"I believe that if you personally face the security forces and the public, and give them your word, they will accept it. So why don't you speak to them and tell them that Nasheed sent you to hear and note to their grievances and to assure them that if they gave him three days, all their grievances would fully and exhaustively addressed." Mulay laid out his idea.
"That a very unreasonable request," I said to the High Commissioner. "I don't represent President Nasheed. And, I don't agree with your belief that the security forces will listen to what I have to say. Nor can I see in what capacity I would be going there. And, I doubt if President Nasheed has suggested this. Ibrahim Mohamed Solih rang me this morning and indicated President Nasheed intended to resign. But President Nasheed haven't confirmed yet."
"MDP leader Didi is here. Would you mind negotiating with Didi?" the Indian High Commissioner asked me at this point.
"Negotiate what?" I asked him. "I find it a difficult, but since Didi is already here, I might as well meet him. No problem."
"Shall I invite Thasmeen? Shall I also get Gasim here?" Mulay asked. He also answered himself.
"I think if PPM and MDP are represented, we can continue this discussion even if Thasmeen and Gasim aren't here."
So I agreed.
As he entered, Didi said in Dhivehi, "I have credentials to negotiate on behalf of President Nasheed."
"Negotiate what, Didi?" I asked. "And, how do I know that you have your credentials? Do you have a letter?"
"No, I don't have a letter," Didi replied.
"Why don't we speak in English, Mulay is here too," I said to Didi. Mulay was sitting right across from me.
"I have told Didi to establish his credentials," I updated Mulay on my discussion with Didi. "I know Didi is the party leader, but I don't know he is an envoy of President Nasheed. He has to establish his credentials."
Mulay agreed.
Didi called President Nasheed from his hand phone. From what I have learned since, listening to an interview Didi gave later, Nasheed did not want to talk with Didi much at that point. He asked to talk with me instead.
Didi handed the phone over to me.
President Nasheed and I had a conversation. I found him to be very cool, collected, even jolly. There did not seem to be any problem at all.
"Yameen, I have decided to step down. I have decided to resign. I am not the kind of person who wants to remain in power against the pulse of the people. I don't want to rule by force," he said.
"But," he continued, "I am going to go to the President's Office shortly—I have already invited the press—and I will resign in front of them. So I am going to the press now. If you are thinking of addressing the rally, I would like it if you did so after my announcement to the press."
He himself said he had invited the press.
"I am going to the President's Office to resign in front of the press,' that's what he said.
He even joked a bit, and said to me in English, "Yameen, you are still my friend."
Still in English, he said,"Please ensure my personal security."
I assured him that, but I also adde it was not advisable given the atmosphere on the island.
"My idea is to resign and head to my family home or to my wife's residence," he said.
"It may not be safe," I replied. "Even if the security forces give you protection, the island is in a uproar. Why don't you go to Arah [Presidential retreat island] or somewhere for two or three days with whomever you want? Or by yourself, if you like? That's an option too."
"I will talk to the security forces and with my party about your personal security and all of those things", I added.
"If you are still my friend," I asked him, "why then did you arrest me extra-legally two or three times for no reason?"
"I was arrested twenty-seven times," he responded.
"How come? What? It was my brother that arrested," I said.
"Yameen, these things happen in politics," he said. So, I also saw Anni's serious side.
In my assessment of the conversation there was absolutely nothing to indicate that he was that under stress. He laughed and joked. As I said, I found him a very collected person.
"I will see to the personal security issue and try to make sure no harm comes to you," I assured him.
As soon as Didi came in, he had told me about a phone call from Ibu.
"I told him I am in a discussion with Yameen and Ambassador Mulay, so he hung up," Didi told me. But I later heard Didi saying in an interview that Ibu told him on the phone about Anni's decision to resign.
This [resignation] is not something I came to learn the next day. I was told this earlier the same morning. He did not confirm it to me later as I was told he would. Then the discussion with Mulay occurred.
"He has offered to resign," I told both Ambassador Mulay and Didi at the end of the phone call with President Nasheed.
"He is going to meet the press in a few moments to announce it. So what is there to negotiate?" I said.
"In that case, shall I invite President Waheed to arrange for the oath of office and such?" Mulay responded.
"Sir," I said, "Isn't it too early for that? Anyway, that's Waheed's decision."
That's how the meeting ended.
My assessment of it is that President Nasheed and Mulay had a discussion about the grievances that they [security forces] might have, and wanted me to take down those grievances to get a three day respite for President Nasaheed. They thought if I were to give my word to the security forces and the public, they would listen to me. That's how the day's discussions went. Unfortunately, before room could be made for negotiations, President Nasheed voluntarily tendered his resignation.
 **********
Did I have any information about President Nasheed making a concentrated effort towards judicial reform?
Yes, but I only learnt of that after the government had ended. I didn't know about it before because I had been away for the most critical seven or so days of this. I was in Singapore for personal health reasons. I did not have an opportunity for spontaneous exchange of information. So, actually, I learned about President Nasheed's intention to establish a Judicial Reform Commission—or in whatever name it maybe—only after the government changed. It was on the 8th that I came to know he had entertained such ideas. The hope was that, if the 7th had not become such a fearful day, it would have been commissioned as such. But I learned of this afterwards. On the eighth.