"Tholhath threw the first canister": MNDF Commander at 7/2 police mutiny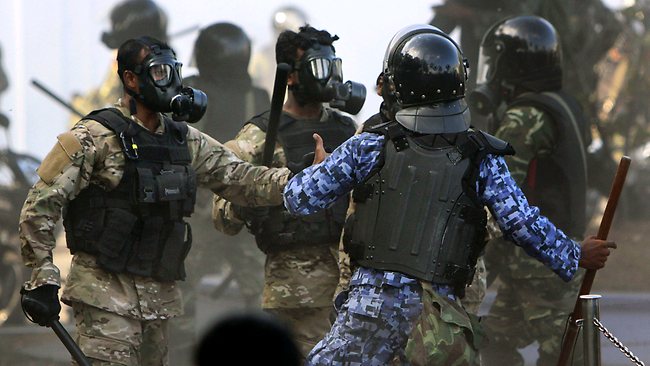 On 7 February 2012, MNDF Staff Sergeant Shafraz Naeem was commanding [Bravo] one of the Bandara Koshi Battalion riot squads that confronted the mutinying SO police in front of the military headquarters. He resigned five days later.
"I have lost faith in the institution," he told the Commission of National Inquiry [CoNI] later. This is Shafraz Naeem's account of what occurred during the mutiny, reconstructed from the transcript CoNI's interview with him on 7 July. I was commander of the riot squad of the Bandara Koshi (BK) Battalion from the time the protests began. We were supporting the MNDF riot squad.
We were on standby till 11:30 p.m. [6 February], when we were dispatched to Artificial Beach. The police were withdrawing when we arrived. My squad placed three cordons in the area. Nobody was violent, but there was much verbal abuse.
I received an order to withdraw to Sawmill. "If we withdraw, there will be trouble," I said to my senior, [Lt.] Ali Ihusan. We withdrew.
Shortly afterwards, we were ordered to return to the scene. Protesters on both sides—the Coalition and MDP—were hurling stones and verbal abuse at each other. We put the cordons back up.
I heard some vehicles arriving. I saw police officers screaming at everyone, the protesters, the MNDF, at everybody. They began running after MDP protesters.
"We will kill you all!" they were shouting.
We restored order, moved the media away. After thirty minutes, the police returned. They were singing patriotic songs. One officer approached me. He put his baton under my chin and let forth a string of profanities.
"You must withdraw to BK", we were told fifteen minutes later.
"Clear the area. Get the media out. Remove everyone carrying iron rods from the scene," Captain Amanullah ordered.
We arrived at Bandara Koshi in the early hours of the morning. About 40-50 SO officers, I am not sure exactly how many, were staging a sit-in at Republic Square. I dispatched squads to cordon off designated areas, MMA [Maldives Monetary Authority] and other spots.
Around 2:30 a.m., outside MNDF [Headquarters], I met General Shiyam. He stood watching the Republic Square.
"Why aren't you giving orders to arrest them?" I asked.
"Go away!" he responded.
I had to ask. We had received intelligence of an intended police mutiny. After being at the Artificial Beach, I knew it was happening.
Half an hour later, all of us squad commanders received orders that no one—be it police or media—was to be allowed inside the cordons.
Some VTV or DhiTV journalists refused to leave. After an argument, we pushed them out.
"Let them in. And, let in the police once they show their ID card," one officer,  [Major] Adil Rasheed said.
Every minute, five or six of them came in, filling up the cordoned off space. SO Officers were allowing gangsters inside the cordons, too. I saw Firusham allowing a few of them in at around 5:30.
We dispersed the crowd as far back as the Metro cafe'.
"Get the cordons inside and withdraw to HQ", we were ordered at around 6:30.
"Why?" I asked Captain Amanullah and Major Adil. I always question orders that do not feel right to me.
"Mind your own business," [First] Sergeant Amir Hussain said. I was told not to question orders.
"Get some sleep," Lieutenant Colonel Fayaz told everyone once we were inside. All our armour was removed, my chest guard, everything except my shield. We had breakfast.
"The President wants to meet you," we were told.
At the same moment, I heard police saying their Azum [pledge]. I heard screaming. And I heard the President shouting to us, "Go outside and arrest them!"
I, with about ten special forces personnel, went.
Those of us with shields were at the front, those without came behind. I was commanding from the front.
"Do not fire!" we were shouting. There were riot guns, rubber bullets, tear gas grenades.
"Do not fire until they fire!" I heard the police shouting. Each side waited to see what the other would do.
A gas canister flew towards the police.
It was fired from our side. I saw who threw it. It was Tholath, the Defence Minister.
"Do something!" he said. The canister landed. All hell broke loose.
**********
Police charged. I ordered my men to do the same. I don't recall how many canisters we threw. Stones, all sorts of things came at us. I was hit many times. I did not give up, I stayed until I was dragged in. I was the last person in.
I was not the main lead but one of several. There were sergeants, I was a staff sergeant. I saw my lead, Lieutenant Hamid Shafeeq only inside the HQ. He was the only person I heard issuing instructions. There was no plan, all orders were ad hoc.
When President Nasheed shouted at us to go out, all command and control was lost. Nobody took charge. I don't think anybody even cared.
We went out when the President ordered us, but once we were outside, nobody gave us orders. The Ground Commanders, who were outside with us, should have commanded. They did not. About 3-4 minutes is enough time to analyse the situation and issue orders. There would have been enough time for a plan of attack. If the canister had not been thrown.
Around 9:30, I saw a large group of men gathered near the Communications Room. "Nasheed is a criminal. Do not obey unlawful orders," I heard them say. I reported it to my senior.
"I will handle it," he said.
"Collect all guns!" I heard a commander saying soon after. All weapons were taken away.
Outside, I could see Riyaz, Fayaz and Nazim. Shiyam, Fayaz (Papa) and were inside.
"Tell the president he has no choice but to resign!" I heard Fayaz say to Shiyam.
"I will", Shiyam said. He had a weird smile on his face.
I was attending to some injured soldiers when I heard joyful shouting. [Mohamed] Nazim was being hoisted up by some football coaches.
Shiyam had let Nazim in, I know.
Nazim was in the forces before. I cannot remember now, but I think he was a Colonel. He was my instructor.
"This won't go well," I thought. I knew Shiyam was aware of what was happening. Once, while training with Shiyam, we had a conversation about an intended naval base.
"Where are you going to get the money for it?" I asked him.
"Gasim Ibrahim will give unlimited funds for the base. He will help MNDF grow," he replied. The naval base is Shiyam's dream project.
I don't know what happened after Nazim went inside.
A rumour started soon that MDP was about to torch MNDF homes. Some people began to get worked up. They wanted to go outside. Shiyam and Zayed got them into a squad, and sent them out. There was nothing, no MDP people, no thugs.
It was past 11:30 then, and we heard Nasheed had resigned.
**********
The next day, I returned at about 8:30 p.m. Nothing much was happening.
"If there is any rioting," Papa told Shiyam, "Give me two minutes. I'll have it all under control."
I was in Bravo when I saw police charging the demonstrators.
"Why are they doing this?" I asked my senior [Lt. Col] Nasrullah. Even he did not know.
"Shut up," Papa said to me.
I got a lot of flak and warnings for asking questions, for following President Nasheed's orders. I took an oath to protect the country and the president; not to beat civilians or to mutiny. I did not take an oath to follow a mutinous general. I was never a big fan of Nasheed, but it did not matter to me who the President was that day. I would have done the same for any president.
In my view this was a coup. Why? I could see it from the way they handled everything, their attitude, how cool and calm all the officers were. I could tell from how cool General Shiyam was inside the MNDF. They did nothing. This is not how a uniformed officer should behave.
I really don't know what [Moosa] Jaleel, Chief of Defence, was doing. He was walking around, smoking, as if in a trance, unaware of what was going on around him. I had admired Jaleel, but in that situation, his mind was somewhere else. General Nilam, too. Had I not pushed him to the ground inside MNDF, he would have been hit by bricks. I am not saying that he, too, was in a trance.
Perhaps they were in shock over the mutiny.
**********
UPDATE: In communications with Dhivehi Sitee since the above post was published, Shafraz Naeem has said the CoNI transcript is inaccurate. Among the clarifications he would like to make are the following:
He arrived back at Bandara Koshi the following day [8 February] at 2:30 p.m., not 8:30 p.m. as recorded in the transcript.
He stated that he was not a fan of how President Nasheed handled the MNDF, not that he was 'never a big fan of Nasheed.'
Parts of his conversation with General Shiyam about the naval base have been left out.
A heated exchange between Shafraz and Co-Chair, Ismail Shafeeu, on command and control–who was responsible for its loss and how it happened–has been omitted from the transcript.
Thursday, 28 February 2012