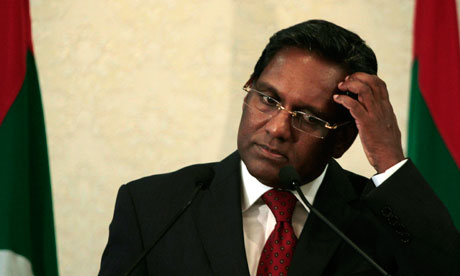 by Azra Naseem
Until Dr Mohamed Waheed Hassan Manik took oath of office as President of the Maldives on 7 February, most people did not know much about him, and even more could not care less.
The generally shared impression of Waheed was that he is an educated man who drily stuck to policy, the ex-UNICEF man with a PhD from Stanford. As Vice President he was delegated drugs and environment as focus topics, both issues of great national concern. He seemed to keep well out of the political intrigue and chaos that surrounded him; and, unlike most Members of Parliament and the increasing band of petty politicians, largely managed to stay out of newspaper gossip, and the extremely productive Maldivian grapevine.
He has friends in high places, even if of dubious credentials, like the vacillating British tycoon Sir Richard Branson who first criticised Waheed then admired him then suggested a middle-ground; and the mysterious 'Malaysian consultant', Dr Ananda Kumarasiri. Kumarasiri is a best-selling Buddhist author who, when he arrived in Male' shortly after 7 February, was described as 'a passing friend.' But he was allowed to interrupt Waheed during an official press conference, and to speak for him in Sri Lanka.
Abroad, the general impression Waheed seems to have left is that of an affable, likeable man. Even when disagreeing with him, Waheed's foreign acquaintances make a point of saying they like him.
Branson said, for instance:
It was a real pleasure meeting you and your delightful wife when I was last in the Maldives…

From knowing you, I would assume that you were given no choice and that it was through threats that you have ended up in this position.
And Mike Mason, Nasheed's Energy Advisor, said this:
 I don't think Dr Waheed is a bad man – actually I like him a lot personally.
Perhaps these men see a side of Waheed that the general Maldivian public do not. Certainly, his interactions with the foreign press are rather jovial and quite the opposite of the dull occasions they are back home.
Truth is, the general Maldivian public did not quite know who Dr Waheed was, and nobody really cared. But, now that he has put himself in the Presidential limelight, it is becoming increasingly clear that there is substantial discord between the image people had constructed of Waheed  and the details of his personality emerging since he assumed office on 7 February.