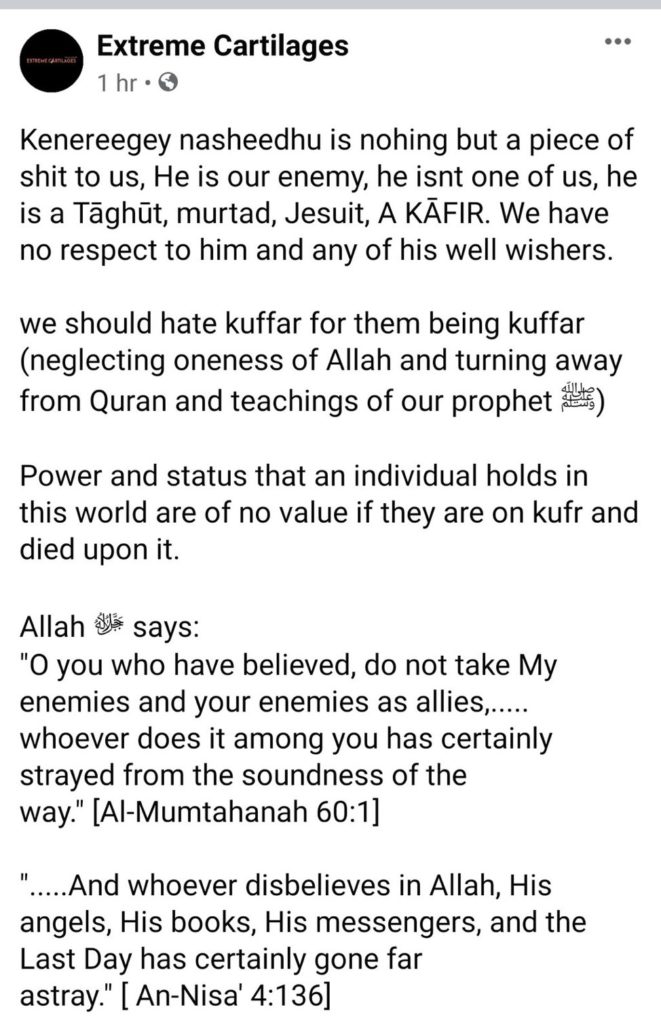 ---
by Azra Naseem
Former President Mohamed Nasheed who has dedicated his life to the struggle for democracy in the Maldives; who was imprisoned, tortured and kept in solitary confinement for using his voice to express the distress of the voiceless; who has promised to expose the people in power that stole hundreds of millions from us; who is valued voice in the global fight for climate action and climate justice; a father, son, brother, relative, friend, human being– Mohamed Nasheed of Kenereege, one of the most influential figures to have emerged in modern Maldivian history, reduced to nothing but 'a piece of shit'.
Someone tried to blow him to pieces last Thursday evening in Male', because Nasheed is not Muslim enough.
Other motives have been considered, such as Nasheed's determination to expose the MMPRC scandal. There is almost always a convergence of politics and religion in the Maldives. Because state and religion are so interwoven, it's hard to know where the perimeters of one ends and where the other begins. But, in the end, it's the dehumanisation allowed by militant Salafi discourse against non-Muslims that makes these killings, and the impunity that surrounds them, possible.
Maldives today (for Maldivians) is a place where violent death awaits those who openly disagree with the religious establishment that dominates society. A powerful IED, sophisticatedly put together, was exploded right beside Nasheed as he walked to his car parked a short distance from his house. The culprit was waiting for him with a remote control device, ready to detonate the explosive hidden under a motorcycle parked between Nasheed's home and his car. He sustained serious injuries. After an entire night in the operation theatre and multiple surgeries later, he is now recovering in hospital.
This attack should have surprised no one. It is the culmination of a long, nationwide campaign of vicious hatred against Nasheed based on Islam. It dates back to the collapse of the first coalition government in 2008, and the subsequent political power struggles. Adhaalath Party which, having wrangled an Islamic Ministry out of MDP as part of their demands for staying in government, reneged on the deal in 2011 citing Nasheed's reluctance to follow their religious advice as the main reason. Nasheed is not Muslim enough to be the leader of the Maldives, was their message. All Nasheed's political rivals fell on Adhaalath's accusations of anti-Islamic behaviour from Nasheed like birds of prey on the carcass of a lion. The media, most privately owned by political rivals, declared open season on him and his alleged non-Islamic behaviour. Every action was poured over, scrutinised for its anti-Islamic implications not visible to the naked eye, and labelled as Laa-Dheenee.
This word–Laa Dheenee–a neologism created specifically by religious leaders to variously mean Irreligious, Anti-Religious, or Anti-Islam, is the most pejorative label that can be applied to a person in contemporary Maldives. Nasheed and Laa-Dheenee became woven together in millions of sentences said by politicians, journalists, and Salafi clerics every day throughout the day on different platforms on mainstream and social media.
This project for making Nasheed into a "Muslim-hating Jew", a Jesuit, a Christian Missionary, An EU Spokesperson for Gay Rights in the Maldives, an anti-Muslim crusader on a mission to annihilate Islam from the Maldives–or any of the other covert irreligious motives assigned to him–was strategically and enthusiastically pursued for years jointly by political rivals and religious leaders led by the Adhaalath, Salaf Jamiyyaa and other such groups. People who knew better, like Dr Hasan Saeed–who co-authored books such as Freedom of religion, Apostasy and Islam —joined in the free-for-all against Nasheed, publishing material such as President Nasheed's Cunning Plans to Destroy the Islamic Faith of Maldivians, a 30-page booklet alleging that the Nasheed administration harboured an overarching anti-Islamic agenda that underpinned all governmental actions and policies. These political/religious leaders took to every available podium to denounce Nasheed as La-Dheenee.
It is clear from the words of Nasheed that he is not a Muslim

– Sheikh Fazloon, December 2020
The campaigns, which still continues, incited so much hatred against the former president that it persuaded a large portion of the population that he was a clear and imminent danger to the survival of their faith and should be removed from office. Not only did these people strip him of the presidency, they also dehumanised him as much as possible. Reduced him into nothing but a non-Muslim. In other words, according to Maldivian jihadists, a piece of shit. Whose life is worth nothing.
The bombing of Nasheed is the result.
That's how it goes, the story of every person labelled Laa-Dheenee and singled out as anti-Islamic by Salafi/political leaders. We are all legitimate targets.
A culture of hate
Mushfiq recently wrote about the impunity with which violent criminals can act in the Maldives, especially Salafi Jihadists. The DDCom report says the Commission examined Afrasheem's death as possible to have been committed by either political rivals or religious rivals. Ultimately the Commission was satisfied Afrasheem was killed by Jihadis. Afrasheem believed differently to the Salafi, and he had to go. DDCom found Al Qaeda Cells to have been behind the abduction and murder of Ahmed Rilwan and the murder of Yameen Rasheed. The three men were labelled LaaDheenee and singled out for harassment, abuse and finally murder. They were 'pieces of shit' that, according to this sadly widespread ideology in our society, needed to be killed.
After so many murders and attempted murders, and after talking to several people whose lives have been made impossible in the Maldives by Salafi activists–violent and non-violent–it is possible to see a certain process at work. First, Salafi influencers, like former pop-star Ali Rameez, single out people who are not Muslim enough. Then someone like @SiruArts, an 'artist' whose oeuvre is a 'portrait' collection of should-be Jihadi targets, starts disseminating infographics with pictures of Laa-Dheenee Maldivians who should be hated for the sake of Islam because because they have been deemed not Muslim-enough, anti-Islamic, or an Apostate. Their followers everywhere then begin adding to the graphics, or making their own, until hundreds of posters commanding the public, as Muslims, to hate the figures so singled out.
Here is an example of a typical hate campaign in the name of religion, at the beginning stages:
Had this particular campaign not been interrupted by the attempted murder of Nasheed, this campaign against Sabra Noordeen, senior policy official at the President's Office, and Aminath Shauna, the newly appointed Minister of Environment, would have taken on a momentum of its own at this stage. By now they would have been publicly maligned, their characters assassinated, their looks scrutinised, their children and family brought into the mud-slinging, their private pictures leaked to the media, and every possible means of social humiliation, often gender-based, would have been brought to play against them.
These women, and other outspoken women like them, have always been targets. Simply for being women, for having influence, for speaking out, and for not being submissive. Enough to be Laa-Dheenee in some books. The new campaign against them was meant to escalate the abuse, to get them to be the focus of the hate that Salafi influencers can command nationwide almost at will, in the name of Allah. The Laa-Dheenee label, which has already been applied to them quite successfully, would have been amplified with hashtags and Facebook posts, Telegram posts and Viber group chats.
Had it run its full course, the campaign would then have gone 'viral' as believers take up the mantle of hate in various islands and atolls of the country. The two women would soon have ceased to be human, becoming only LaaDheenee beings. The formal and informal networks of religious clerics across the country would at this stage have whipped up such performative outrage against them that, in the end, they would be faced with a simple choice: leave the country, or be killed.
Below is an example of how the 'artwork' of these pious believers progress once a campaign of hatred is launched.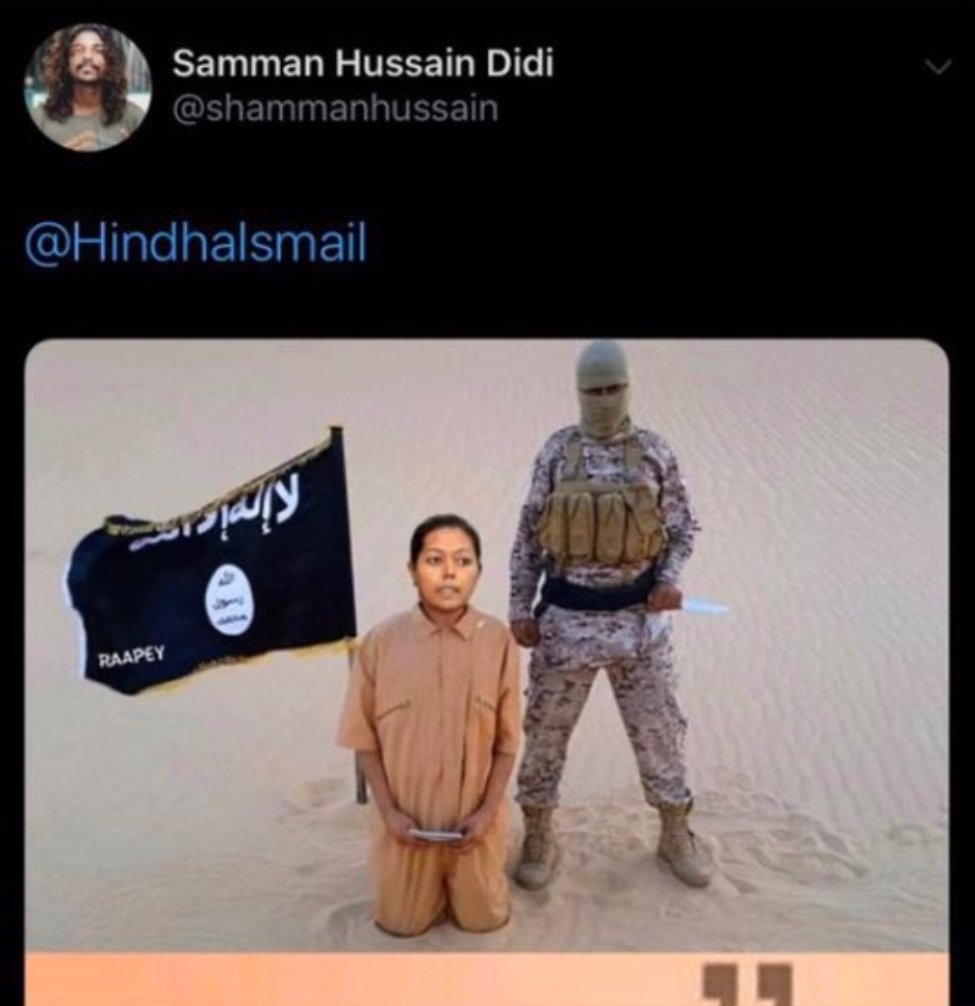 This kind of 'artwork' and other such publications focusing on Nasheed has been produced in their thousands and distributed across all media platforms in the Maldives and on the Internet for a decade now, with no consequences for any of the 'artists'. It is simply accepted as a given today that speaking against the repressive control of society in the name pf religion would–and should–get you killed.
What happened to Nasheed, to Afrasheem, to Hilath, to Rilwan and to Yameen will happen again. Because nothing happens to the killers.
The failure is not just that of the law enforcement officers who are blaming the public for not having foiled the plot. It is also the fault of those in society who agree that unless you are confirmed as a good Muslim (by the Salafi establishment), you are a worthless piece of shit that cannot be allowed to exist in contemporary Maldives.
See how they gloat.