Like Water for Politics: Lessons from Male' Water Crisis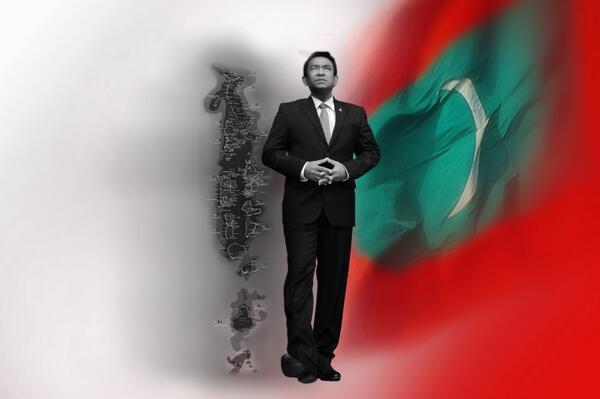 by Azra Naseem
On 4 December, a fire at the Male' Water and Sewerage Company (MWSC) damaged the desalination plants supplying water to the congested capital's 150,000 residents. Since then the two square kilometre island has been without running water. Drinking water has never really been free in the Maldives. A majority choose to buy bottled water rather than drink desalinated tap water. Soon after the fire at the MWSC, the island was on the verge of running out of bottled water, too, as people started panic buying in bulk.
Foreign Minister Dunya Maumoon asked for foreign assistance later the same evening. India was the first to respond. The first Indian aircraft carrying emergency water assistance for residents of Male' arrived on the morning of 5 December. On Sunday, INS Deepak docked in Male'. She was carrying 900 tonnes of water, and has the capacity to produce 200 tonnes a day. Sri Lanka also sent water, and US agreed to help. 20 tonnes of water from China arrived Sunday night by air, and another 600 tonnes arrived this morning with the Chinese navy. As the newly set up [second] official Twitter account of the Maldives Ministry of Foreign Affairs shows, plenty more water has been shipped to Male' in-between. Police and army are distributing the water from designated points, and people are queuing up in tens of thousands to collect it during specified times—it is all they have for drinking, cooking and all sanitary purposes.
The crisis has revealed the MWSC—co-owned by the Maldives government (80%) and Japan's Hitachi company (20%)—does not have a back-up plan for supplying water to Male's residents. As any major crisis in a country tends to do, Male's water crisis has also revealed interesting facts about its socio-economic and political life.
Socially, the first day of free water distribution was marred by racism as some residents of Male' tried to stop expatriate labourers from getting to the rationed water. The shameful behaviour even made it on to Al Jazeera. Sadly, it's not a once-off. Discrimination against (non-white) immigrants is one of the defining characteristics of Male' today. Often, Bangladeshis are at the receiving end of this racism. On Monday a naval vessel, BNS Samudra Joy, carrying 100,000 tonnes of drinking water and five mobile water treatment plants docked in Male. In addition to appreciating the water, many also admired the Bangladeshi gesture as a great way of raising the middle finger to Maldivian discrimination against their workers in Male'.
There have also been many reports the foreign donated water is not being distributed equally.
Hear water given by #India to #Maldives finds it way to influential people in #Male and not the people! India dancing to tunes of #PPM govt

— R.K.Radhakrishnan (@RKKrishnan) December 8, 2014
According to these reports, overseen by police and the army, water is being delivered to the houses of politicians and other influential authorities in lorry loads in the darkness of the night while people form long queues at the taps during the day. One person who objected to this practice was arrested.
State resources used to distribute water in bulk to the senior govt officials. Those who question this are arrested. pic.twitter.com/DoY4P7b0XX — Shauna Aminath (@anuahsa) December 8, 2014
Such behaviour is again a reflection of the unequal distribution of wealth and privilege which is a defining characteristic of the city. On the positive side, the water crisis showed how—despite all the political divisions and conflict of recent years—people are willing to look out for each other at a basic human level. Many shared their limited running water with people who live on higher floors of Male's many high-rise apartments and could not access the pressure-less water. Hundreds of volunteers joined Maldives Red Crescent to distribute water. Others allowed open access to their reserve underground water-tanks. Male' City Council set up a make-shift desalination plant and started distributing water. Home deliveries were made for people with special needs.
Political and economic mess
Politically and economically, meanwhile, the water crisis revealed a country in shambles. It was 74 hours into the disaster when President Abdulla Yameen first put in an appearance. Not that it is unusual for the president to be missing in action. Yameen has spent as much time abroad on unofficial and unexplained visits as he has at home since he assumed the presidency in November 2013. Mysterious disappearances of any Head of State would lead to questions. And, in the absence of answers, they lead to speculation. Reports are rife in Male' that the president has a brain tumour – Gliobastoma, to be specific. Aware as it is of the reports–it is impossible not to know, given how frequently it is discussed on social media–the President's Office has neither denied nor confirmed them. Telling people as little as possible is characteristic of this government. In sharp contrast to governments which hasten to reassure the public of its leader's well-being, Yameen's sees no need to keep the public informed.
Yameen's absences have also revealed a disturbing truth—knowing he would be away for lengthy periods of time, he has appointed a band of [hench]men who are to run things as he pleases. Leading the cabal is Tourism Minister Ahmed Adeeb and Defence Minister Mohamed Nazim. As I have written elsewhere ('The general's atoll', Himal South Asia, October 2014), Nazim has a finger in every Maldivian pie. He is not just the Minister of Defence but also the Minister of Transport, Minister of Health, in charge of Disaster Management, and also in charge of Immigration and Information Technology. It is often unclear which hat he is wearing; what is certain is he has a hat for each occasion.
Minister Adeeb, sometimes referred to as 'the ATM' due to his seemingly endless stash of cash, appears to be in charge of packaging, doling-out and selling as many Maldivian islands as possible. Recently embroiled in a corruption scandal worth US$ 6 million, his privileged position as one of Yameen's bosom buddies, makes him immune to prosecution. Both Nazim and Adeeb have been jointly implicated in the international narcotics trade, having associated themselves with the infamous Artur Brothers whom the two ministers entertained on Maldivian islands for days. Adeeb has been relatively quiet in the water crisis but Nazim has, on the contrary, been its poster boy.
Foreign affairs
Nazim's place at the top of the 'Task Force' in charge of the water crisis has also brought to fore not just the creeping militarisation of Maldivian life, but also the militarisation of foreign policy. This is most prominently displayed by the government's attempts to take advantage of Sino-Indian rivalry in the Indian Ocean. Although friends and cultural allies even before the two countries gained independence, India found itself on the wrong side of Yameen's supporters during the turbulent times leading to the 2013 presidential election. After victory was ultimately declared in Yameen's favour, the new government appears to have made two important foreign policy decisions: it would favour China over India, and it would favour 'the Arab world' over 'the West'.
Both moves are governed by realpolitik, calculated to bring the country's rulers most financial gain whatever the ideological implications. Courting 'the Arab world' [meaning largely Arab governments, groups and individuals willing to finance puritanical Islamic revival programmes in the Maldives] means easy 'aid' money in exchange for the freedom to spread their ideologies. The man in charge of this branch of foreign policy seems to be the Islamic Minister Mohamed Shaheem Ali, quick to put his hand out to Saudi Arabia and neighbouring countries on any occasion even remotely resembling a crisis.
الذي يريد ان يتبرع للمالديف وهذا حساب الدولة والحكومة فتحت صندوقا خاصا لحل مشكلة المياه، بعد الحريق الذي أصاب المصنع pic.twitter.com/V1H18Go3eP — د.محمد شهيم علي سعيد (@Mohamedshaheem1) December 7, 2014
Courting China, on the other hand, means 'aid' money in exchange for stronger Chinese military presence and business investment opportunities in the Maldives—no conditions attached.
Both moves also help alleviate demands for democratic rights in the Maldives—the kind of Arab financiers being courted by the Maldives generally see democracy as incompatible with Islam while China, unlike 'the Westerners' [and Indians] who attach 'notions' like human rights to their assistance, make no such demands.
Authoritarian hubris
Despite Maldives' move away from India, as seen by the Silk Route debacle, the water crisis has forced General Nazim and Yameen's supporters to eat humble pie as India rushed to supply the water. Grace in defeat was, however, too much to expect. President Yameen could not hide his disgust when a journalist asked at the press conference why he had resorted to foreign assistance before looking for solutions at home. 'Was it foreigners who distributed the water?' he retorted angrily.
Nazim has not been slow to insult either. Asked why he had not accepted India's offer to provide technical assistance to repair the broken water plants, Nazim said he was holding out for assistance from countries that were capable of it—such as Singapore.
For a leading figure in a government failing miserably at providing safe running water to its people to insult a nuclear India in this manner demonstrates incredible hubris. Sadly, though, such hubris is another hallmark of the band of men ruling the Maldives today. Yameen demonstrated it at the press conference when he angrily declared it is not the responsibility of the government to provide people with water. Quite apart from Article 23 (a) of the Constitution which makes the state responsible for providing people with clean water, the government also owns 80 percent of MWSC– when it fails to provide the services it charges people for, it is a failure of the government. Attempts by the government's PR machine to sugar-coat the arrogance convince no one, and are often embarrassing.
"Today you have earned the respect and bring smile to our citizen" – President

— Ibrahim Muaz Ali (@SpokespersonMV) December 9, 2014
Where does the money go?
The financial fall-out from the water crisis has been immense, too. On day-4 of the crisis the Task Force announced a new strategy: there will be a 'Male' Water Crisis Management Fund' to collect US$20 million needed to 'rise from the current crisis and return to normal.' Understandably people are angry and perplexed. Water is expensive in Male'. People pay for it. The water bill also comes with taxes. The MWSC is not a public service, it is a company. It is also fully insured. A new plant costs around US$2 million. So what is the US$20 million for?
For $20m you can repair a rocket launch facility, why can't you repair a small water plant? pic.twitter.com/hldUzn2jka

— Hudha (@hudhuaimy) December 8, 2014
Nazim says the government does not have a breakdown of how this money will be spent; it will only know when it has the money. The only answer the retired Colonel was able to give was to say distributing the water involves complicated logistics and costs money. US$20 million to distribute free water? Adeeb waded in today, adding to the mystery: the US$20 million is 'for government', he said. Why is there a public fund to bail out a fully insured private business? And why is the donated money earmarked 'for government' to spend on unexplained purposes, and not for repairing the water plants at the MWSC?
A perpetual crisis?
The water cut is just one of many disturbing experiences that appear to keep the country in perpetual crisis mode. There is no security on the streets of Male', and of many other islands. This week alone there was one murder, one suicide by hanging, one self-immolation by an expatriate, and several serious sea and road accidents, including a fatal one. A recent survey put Maldives No.7 on the world's list of most dangerous places to live. Stabbings are a daily occurrence. People can disappear without trace for no reason. Journalist Ahmed Rilwan Abdulla was abducted 123 days ago, and remains missing. Today, The Guardian named the Maldives as one of the world's most dangerous places to be an MP in.
The Maldives is in crisis. Not just because its capital island has no running water, but because there is an acute lack of many other elements essential for the well-being of a society. Good leadership that values human rights and happiness over money and material gains is one of those missing elements.