Exploiting Palestinian plight for political gain
by Azra Naseem
The new Maldivian government welcomed Palestinian leader Dr Mahmood Abbas yesterday. It was the first time in 28 years an Arab leader visited the Maldives. The last such visit was by Yasser Arafat in 1984.
Maldivian people, like other Muslims across the world, have sympathised with the plight of Palestinians for decades.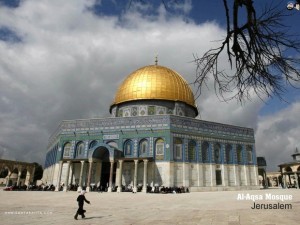 All Maldivians over thirty years of age will remember a long-running campaign on national television in the 1980s, with a picture of the golden dome of Masjid Al Aqsa. It was an appeal to Maldivians to make donations to what was called the 'Qudus Fund' to help the suffering Palestinians.
None of the rhetoric of the time relied on anti-Semitism to help gain public support for the Palestine cause. It was a campaign run on empathy with Palestinians and not hatred of Israel.
Fast forward some two decades, and it is an entirely different story–what drives our Palestinian policy now is not love of our 'Muslim brothers and sisters' but hatred of Israel and Jews; and political point scoring. Evidence of this was on full display during Dr Abbas's visit today.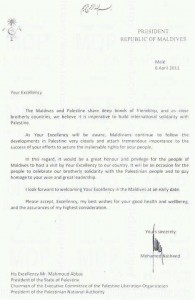 First Adhaalath Party, the country's leading Islamists–responsible for whipping up unprecedented levels of anti-Semitism among the people– jumped in with the blatant lie that Dr Abbas was visiting on the invitation of Dr Waheed. According to Adhaalath, Dr Waheed's invitation to Dr Abbas was clear evidence that unlike the Jew-loving, Zionist Mohamed Nasheed, Dr Waheed is a 'true Muslim'.  Adhaalath was scoring so many political points on the back of the lie that deposed president Nasheed's supporters published his official letter of invitation, extended to Dr Abbas a year ago. Adhaalath, the supposedly fundamentalist in upholding Islamic values, doesn't let the truth get in the way of political opportunism.
Disgusting as Adhaalath's behaviour is, the political hay leading establishment figures made of Dr Abbas' visit was far more nauseating. Take for instance the status accorded to former president Maumoon Abdul Gayoom in the  ceremonies to welcome Dr Abbas. Granted, it was during Gayoom's time that the 'Qudus Fund' campaign to help Palestinians was run. But Gayoom stopped being president in 2008, even though he is yet to accept this. The only rightful political status he has is as the leader of a minority political party which got its first and only seat in the parliament just a day before Dr Abbas's visit. Why then was he alongside Dr Waheed throughout Dr Abbas' visit? Why was he co-host of the state banquet laid out for Dr Abbas? His role was so prominent that it was hard to tell who was the president and who the impostor.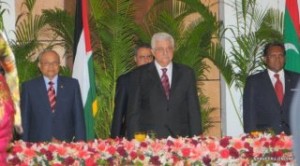 Not only did Gayoom usurp Dr Waheed (who had usurped Nasheed) but he went on to use Abbas's visit to shore up claims that Nasheed's government had pursued a pro-Israeli policy during his three years as the first democratically elected president of the Maldives. He highlighted one of the most tragic and embarrassing mishaps of Nasheed's government when the Maldivian delegation at the UNESCO meeting in October 2011 left early, failing to vote in the UNESCO decision to grant full membership to Palestine. Nasheed administration's explanation that the failure was administrative rather than a deliberate ploy to side with Israel rang hollow, and gave credence to the many claims by Islamists and political opportunists that it was evidence of Nasheed's anti-Islamic agenda.
While Gayoom, Waheed and other political players played the Jew-lover card, other key-players found novel ways to use Abbas' visit for political gain. Police Commissioner Abdulla Riyaz, for instance, found the time–in between discussing the Israel/Palestine conflict, no doubt–to Tweet a picture of himself taken during the banquet with Defence Minister Mohamed Nazim, Home Minister Mohamed Jameel Ahmed and MDP's Vice President Alhan Fahmy. With the caption 'National harmony and unity!', it was meant to add fuel to the rumours of political in-fighting within MDP, and was quickly retweeted (also during the banquet) by the Defence Minister and Home Minister. The insinuation was that Alhan Fahmy was on the verge of defecting, or, as rumours would have it, challenge Nasheed in any forthcoming elections.
National harmony and unity! pic.twitter.com/Aj9Km6od

— Abdulla Riyaz MP (@riyazabdulla) April 18, 2012
The new government is not working for the betterment of the Maldivian people nor that of Palestinians. What drives its Israel/Palestine policy is hatred of Israel, and like all its other policies, hatred of Nasheed.