Inside Nasheed's campaign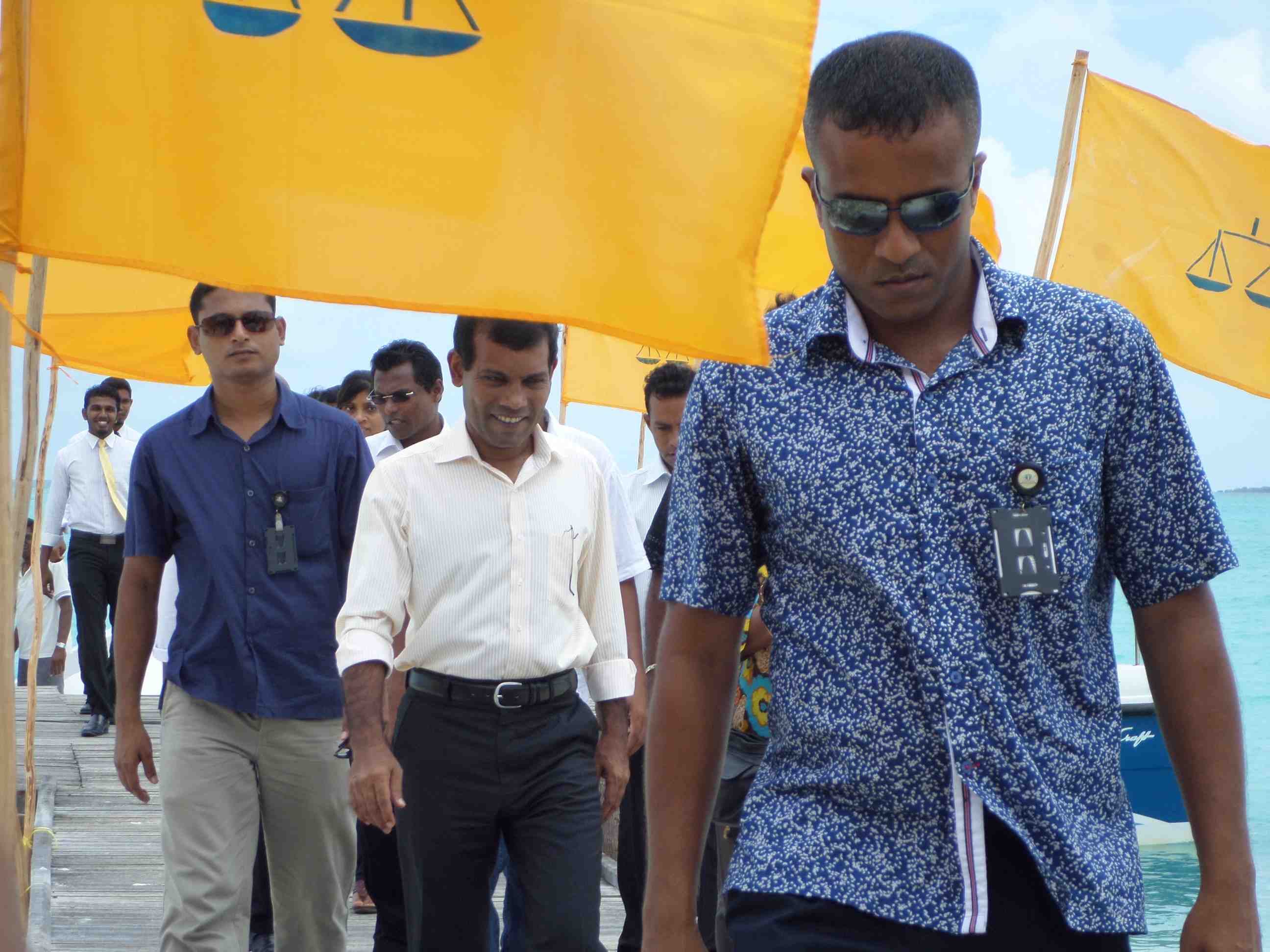 Only 102 days left until the presidential elections. Four candidates are in the running—Mohamed Nasheed of the Maldivian Democratic Party (MDP); Abdulla Yameen of the Progressive Party of Maldives (PPM); incumbent Mohamed Waheed Hassan Manik (of no party); and Gasim Ibrahim of Jumhooree Party.
There are a record number of eligible voters to persuade: 240,302, to be exact—over 30,000 additional voters since the first ever democratic elections in 2008. There is little time left, and much to play for. None of the parties have officially launched their campaigns yet but several candidates—incumbent Mohamed Waheed and tourism tycoon Gasim Ibrahim, most notably—have been travelling the country ahead of the official campaign. MDP, however, is the only party so far with a clear manifesto, a campaign strategy, and an open-door policy towards the media.
MDP's initial plan was to take in all atolls in the country in what was called the Vaudhuge Dhathuru (Journey of Promise). March and April were turbulent times with the 'Opposition Coalition' doggedly pursuing the aim of putting Nasheed behind bars. Vaudhuge Dhathuru was suspended, and in its place emerged Dheythin Fahethi (Five From Three)—mostly weekend visits scheduled around the erratic court orders to arrest Nasheed. The move of DRP MP Speaker Abdulla Shahidh to MDP in April, despite his role in the events of 7 February, gave MDP's travels across the country a new boost and a new name: Eh Burun (In One Round).
In fact, MDP's elections campaign began unofficially almost as soon it became clear it was the only option left for restoring democracy after the authoritarian reversal of 7 February. In December 2011 came its nationwide Door to Door strategy. Initially conceived of as a recruitment campaign to get 'every existing member to recruit one more member', it has now become one of the MDP campaign's chief strategies.
It has also been a highly rewarding exercise for the party, with 125,000 people already indicating it will vote MDP in September. The pledged 125,000 votes are 'no folklore', MDP has said. They are votes that members have actually pledged during its Door to Door visits to tens of thousands of households.
In a country yet to be introduced to the science of polling or ways to measure approval ratings of candidates, the Door to Door strategy has provided MDP with a wealth of information about potential voters. Currently there are almost a 1000 volunteers across the country, visiting households in every island of every atoll and every area in Male', discussing MDP manifesto, individual policies, and gauging people's political attitudes, affiliations and needs.
According to the official party line, this is also the information on which MDP has based the four main policy pledges it has made: the beginning of an agri-business; guesthouses in inhabited islands putting tourism industry wealth within reach of all locals for the first time; mariculture business; and the empowered worker initiative.
Part of MDP's strategy has been to make each policy launch a colourful event hosted at a different island each time. All atolls participate by releasing it simultaneously in their areas. Each policy is presented in attractive packaging depicting utopian visions of MDP's 'Other Maldives' full of industrious shiny happy people.
Only one atoll, Meemu, remains on Nasheed's list of atolls to tick-off as having visited since the unofficial campaign began. Nasheed keeps a gruelling schedule, out in the atolls on average fifteen days a month, three islands each day, forty-five islands each month.  I joined Nasheed's trip to Haa Alif and Haa Dhaal from 19-21 May to launch MDP's Agri-Business policy as part of the accompanying media. Continue reading for a behind the scenes, island-by-island (page by page) look at Nasheed's trips to Hanimaadhoo, Kulhudhuffushi, Kelaa, Filladhoo and Baarah.