Inside Nasheed's campaign
 Filladhoo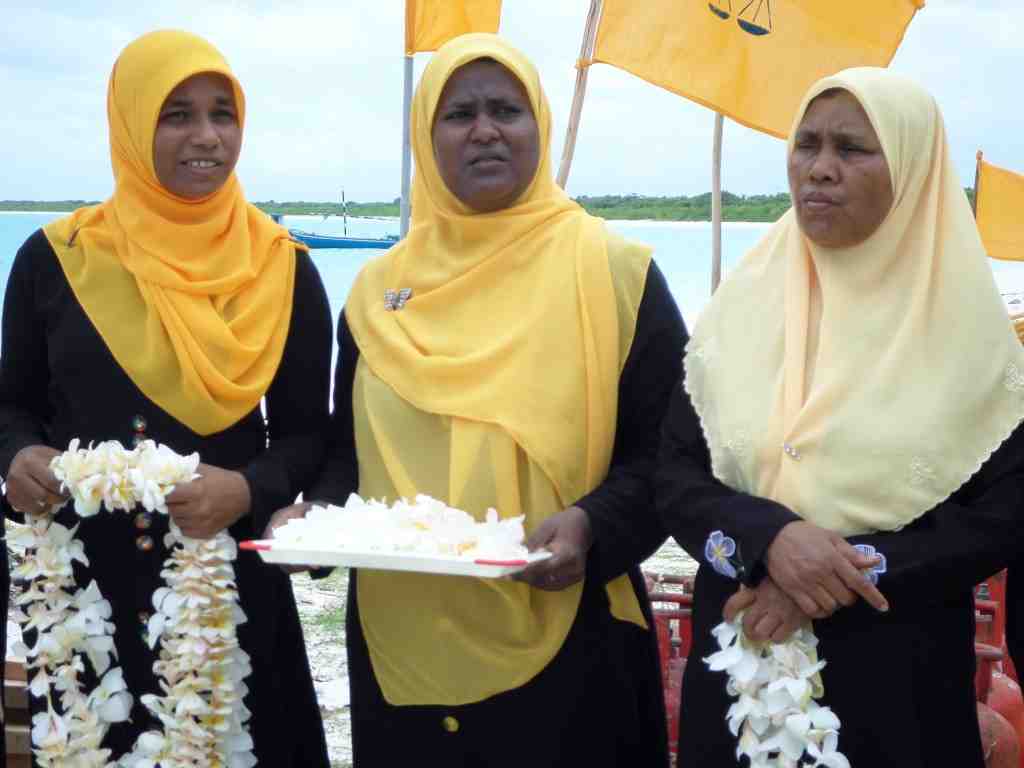 Filladhoo is a small island with a population just over a thousand. On arrival, like on other islands, there's coconuts waiting, and the news that forty people had signed for MDP overnight. Twelve of them were waiting to sign their membership forms in front of Nasheed.
Later he holds a policy meeting in the cramped living room of a small house—unlike Kelaa or Hanimaadhoo, there is no dedicated campaign headquarters for the team on this less well-off island.
Just as in Hanimaadhoo, here too, Nasheed's voice carries loud and clear outside the room onto the street where we wait. The first stop in the door-to-door round of the afternoon is a house owned by an MDP family like Ameena and Dhonthu's. The woman of the house, Shaheedha Ismail, 50, has prepared a snack of aveli [an old Maldivian dish] for the team. Nasheed takes gamely to mixing the aveli and chatting to MDP members Shaheedha has invited to join.
One wall of the entire living room is filled with pictures of Shaheedha's seven children at their respective weddings. Shaheedha, too, is an ardent fan of Nasheed and makes it a point to tell me that she always opens her doors for any activity that will benefit the party.
Why does she like Nasheed so much? "I want someone who lives like us," Shaheedha says. "He has been very good to my parents."
During the door to door visits, Nasheed catches up on the fate of a sick child, listens with concern to a woman's worries about the treatment of her child at school, and is delighted to meet a woman cutting muran'ga leaves.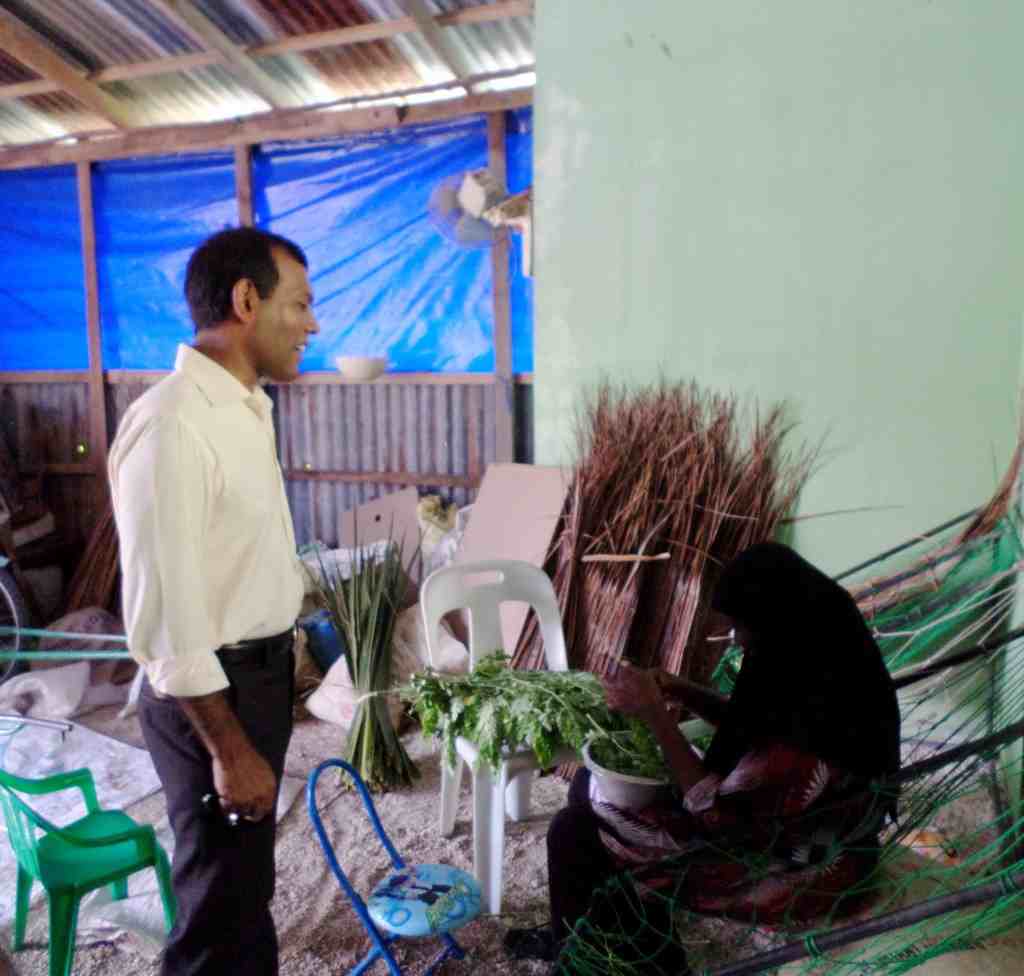 "This is a picture I want," Nasheed says. "This is what I have been talking about—when our Agri-Business policy gets going, farming won't be just about having enough muran'ga to put in your omelette." There's childish glee on his face to have come across what he sees as the actualisation of a picture he had earlier created with his words.
In one house Shifa listens to a woman tell her about a 35-year-old daughter with special needs that the State refuses to recognise as being in need of state benefits. 
I learn that Filladhoo has been without a doctor, or even a community health worker for over three months. "The Health Ministry says it will send a doctor when it can," she tells me. There is no knowing when that will be.
What happens in case of emergency?
One of the MDP volunteers tells me there were two emergencies in the last month—a school boy broke his arm and a man fell off a coconut tree breaking his leg. Both had to be taken to Kulhudhuffushi, all costs born by the patients and their families.
Previously, the people of Filladhoo could take a ferry to the island of Dhiddhoo for Rf20. Dhiddhoo has a hospital. But the ferries have been discontinued since the coup and anyone in Filladhoo unfortunate enough to suffer an illness or injury must hire a Dhoni for over 2000 Rufiyaa to take them to Kulhudhuffushi.
"Filladhoo's pregnant women now travel to Kulhudhuffushi in their eighth month—with no doctor on the island, none of the women want to risk labour complications. Most have to stay in rented accommodation, accumulating huge expenses families find hard to bear".
On the road back to the jetty, we meet a woman well in her eighties who cannot recall her exact age.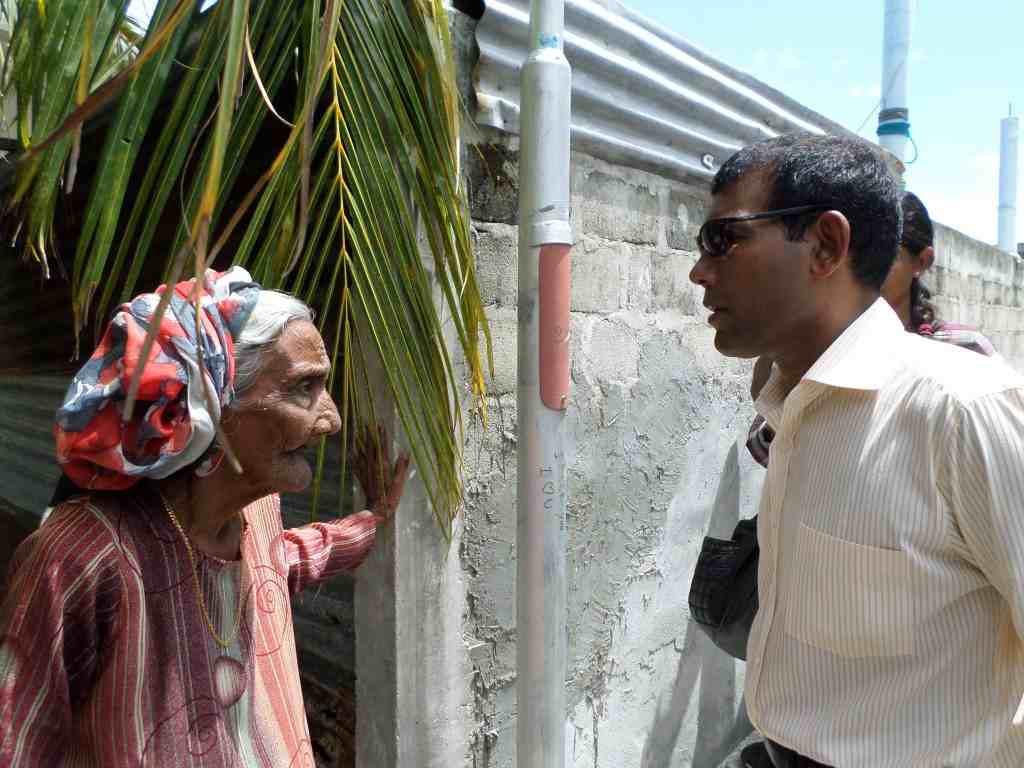 She is out on the street, holding her daughter's hand to steady herself, on the off-chance of running into Nasheed. Nasheed chats to her easily, and tries to calculate her age from her earliest memories. She remembers Hassan Fareed very clearly, she says. Nasheed calculates her age to be roughly around eighty-five.
He's still muttering about Hassan Fareed when he runs into another woman of about the same age. She, too, is lingering on a side street on the off-chance of running into Nasheed.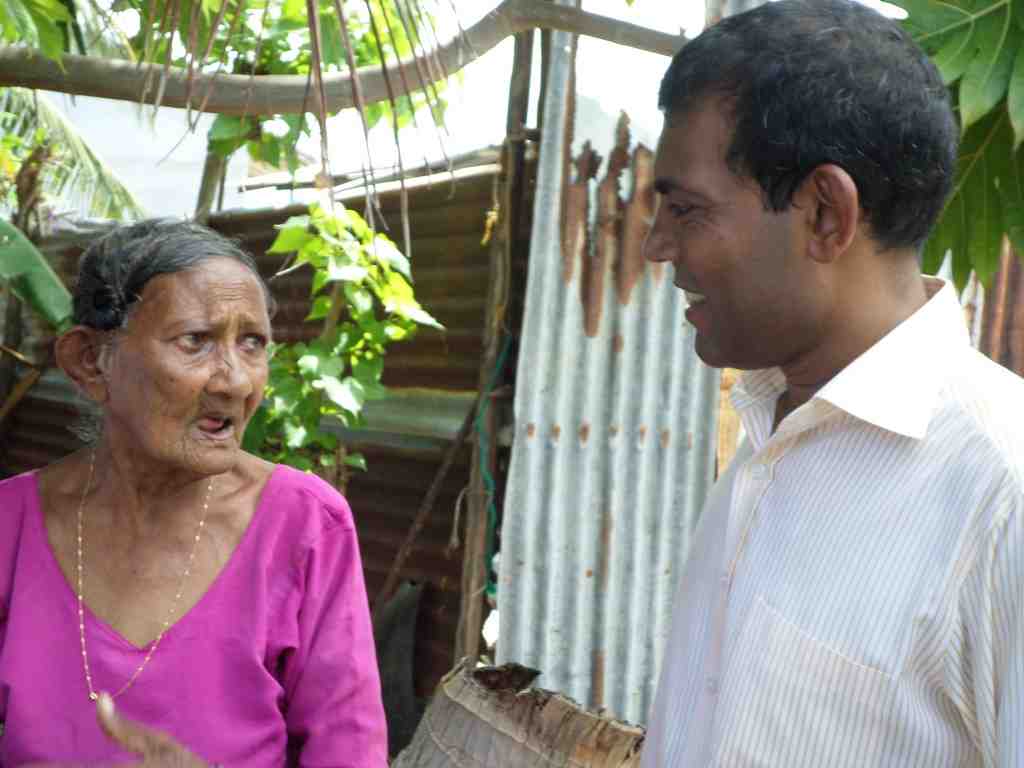 Before we get to the jetty, we meet a third woman in the same age group, waiting in a lane-way, alone. "She has a tough time, that Dhaththa [older sister, generic term used for older women]," an MDP councillor explained. Her children do not want her supporting Nasheed.
Intimidation by children who do not want their elderly parents to support MDP or vote for Nasheed is a trend common to several of the islands. The women I talked to in Hanimaadhoo recounted several such stories, as did the ones in Filladhoo. Some grown-up children, I learn, also confiscate their parents' ID cards and bank cards, keeping the parent a virtual prisoner both politically and financially.