Inside Nasheed's campaign
Kelaa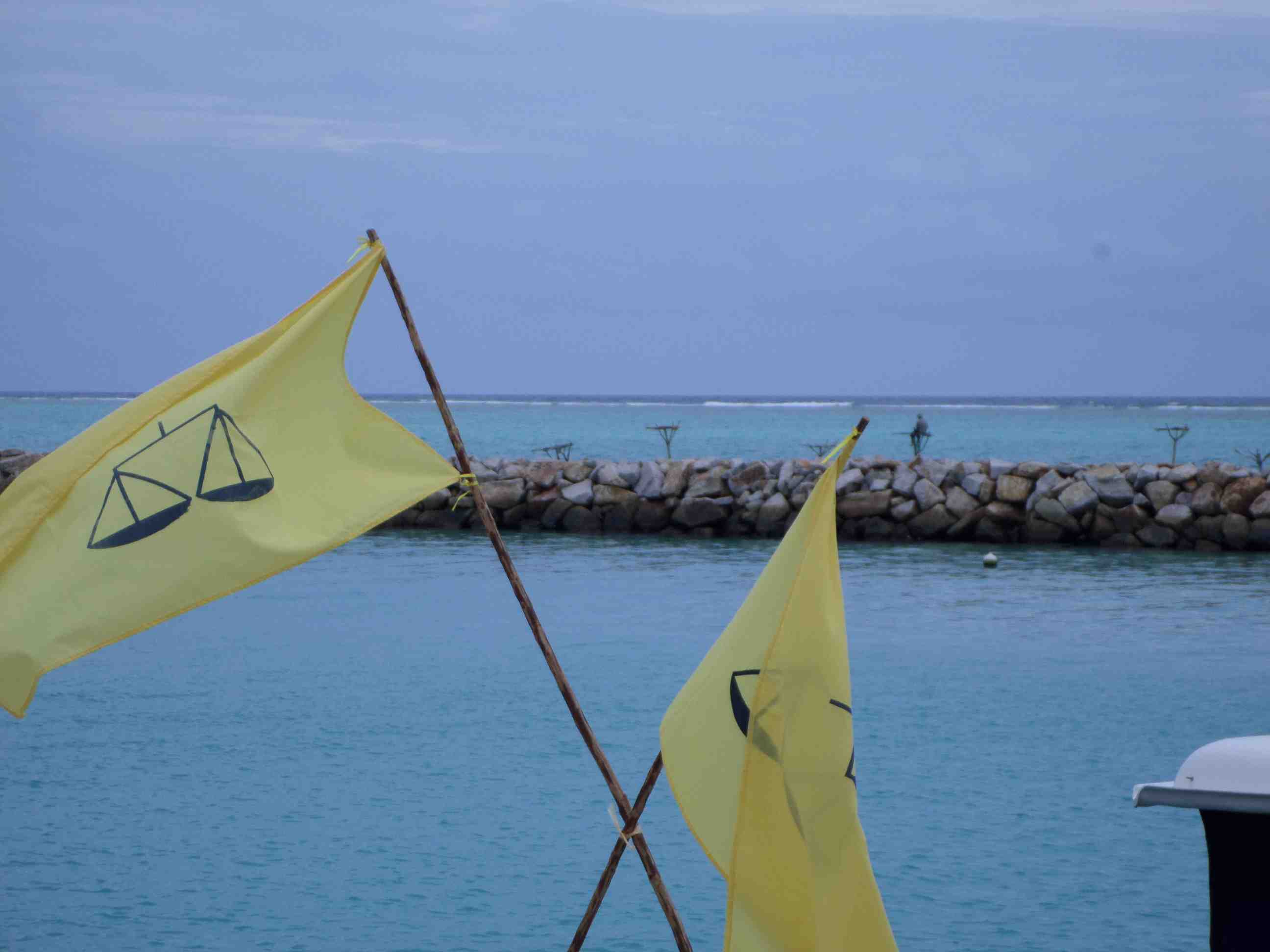 Kelaa is stunningly beautiful. It has long wide roads lined with lush vegetation, and beautiful houses on large plots of land with lovingly tended gardens rich with tropical flowers and fruits. There are several hundred more people gathered at the harbour as the sun sets to welcome Nasheed to Kelaa. The Kelaa crowd is the biggest, and the most unreservedly welcoming so far. In what I can identify as a pattern at this stage, men out-number women. Here, the gender gap is much smaller, though.
In Kelaa, there's dinner, followed by a campaign speech by Nasheed at the main school hall at 9:30 pm. This rally is apart of Eh Burun (In One Round) segment of Nasheed's campaign.
There's excitement in the air. Kelaa supporters of MDP are enthusiastic and passionate about winning the elections. The councillor, Haulath Mahira, is on fire. She loudly denounces policies of the previous government, condemns the 7 February coup, and rallies the crowd to vote for Nasheed. "We must not let ourselves be dragged back to those days," she screams into the microphone. The crowd erupts into applause.
Kelaa welcomes the Agri-Business policy with loud hoots, cheers and claps. They are enthusiastic about the prospects and the potential it has for making their farming businesses more successful. The people of Kelaa are already committed farmers. 
"We'll buy everything. Everything," Nasheed tells them to loud applause. He argues for public-private ownerships that opens the island up to numerous opportunities in the globalised world. Like in Kulhudhuffushi, he talks about forming partnerships with fast developing countries in the region and the rest of the world, and argues against protective nationalism and isolationism.
"We have been too hung up on ownership. Whether our partner in business is foreign or not, Kelaa will always belong to the people of Kelaa." Nasheed's supporters lap up his digs at the opposition's isolationist approach that has alienated several foreign investors during the last year. This is what the opposition media coverage of Nasheed's campaign focuses on the next day.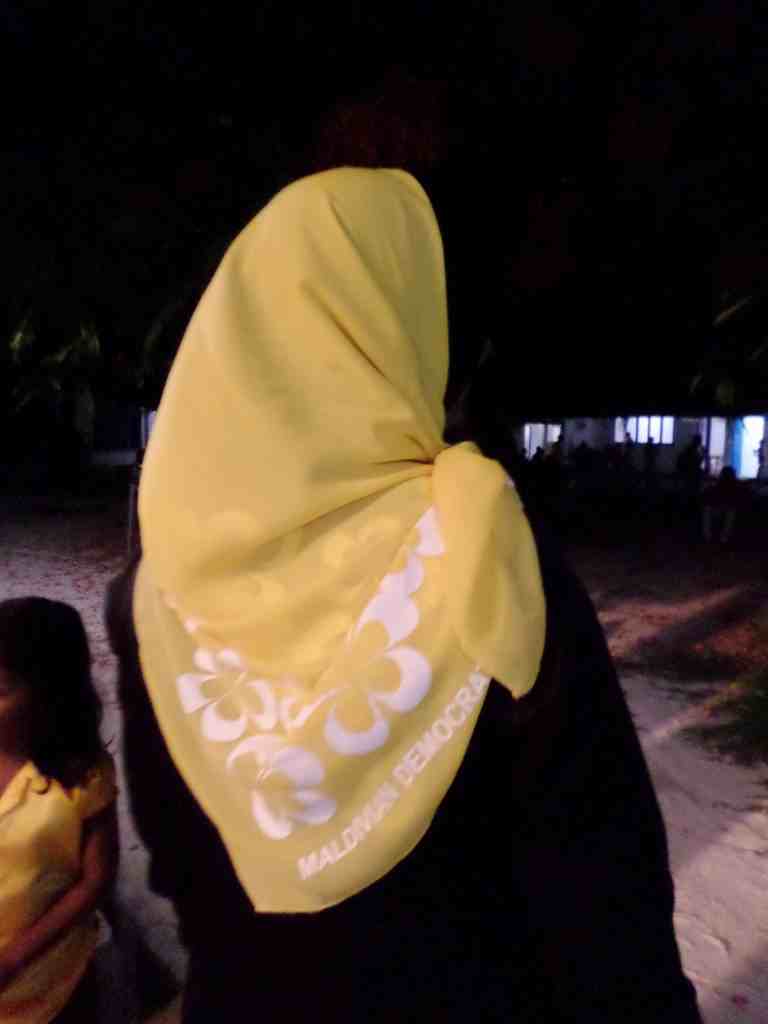 There's bon'dibaiy after the hugely invigorating rally. I notice a woman wearing a yellow burugaa that has Maldivian Democratic Party printed on it. I wonder if it is unique, this new Maldivian habit of making their Islamic headgear also a political statement. One woman from Filladhoo told me that there is a brigade of women on the island who support anyone but Nasheed. They change the colour of their burugaa according to party colours of whichever non-Nasheed candidate is visiting the island. Blue for Thasmeen, Pink for Gayoom Yameen, and so on. Talk about a mish-mesh of religion and politics.
We are leaving after breakfast, scheduled for 8:30 a.m. I wake up early and use the time to catch up with an old Kelaa friend, a 44-year-old mother of four, and explore the island a bit. Kelaa is clearly more prosperous than other islands in the atoll. The houses are large, well-built and modern. Several, however, are empty. Many families are forced to leave their life on the island for Male' once their children near the end of their secondary school years.
"If we stay, what will happen to my daughter?" Shadiya asks me. Shadiya, in her forties, lives in a beautiful house, painted completely yellow and boasting all mod-cons of modern luxury with her two daughters. Her husband works on a resort island near Male', and can only visit occasionally.
Their older daughter is sitting GCE O'Level exams this year. "I want her to get an education, so we must go." Reluctant to send their children to Male' on their own for higher eduction, all parents who can afford it leave their comfortable houses for a cramped and difficult life in the city so their children can get the education necessary for university.
It is a sad sight to see, all the lovely houses in Kelaa standing empty and lifeless.
Along the way, we meet my friend's 80-year-old mother-in-law. She is hobbling slowly with the help of a walking stick. Her mood seems despondent.
"I wanted to go to the harbour to greet Nasheed, but my bad knees won't let me walk that far," she explains. "I don't know if I will live long enough to see him again."
I have run into an elderly fan of Nasheed. Over the course of the day, I run into many more. Over sixty-fives, I find out, are one of Nasheed's core support groups. 
Breakfast is at the Kelaa MDP Haruge. Yet another feast of Maldivian food prepared by women supporters who had stayed up the night to ensure everything on their candidate's plate this morning is fresh. There is roshi, mashuni, kulhimas, sweet black tea and various kinds of curry. About twenty women are busy serving, exchanging easy banter, and glowing from the excitement of meeting Nasheed. "He is one of us," they tell me.
Perhaps this excitement and adoration that Nasheed seems to evoke in his supporters is what incites the opposition's frequent accusation that MDP is a cult led by Nasheed.