Inside Nasheed's campaign
Baarah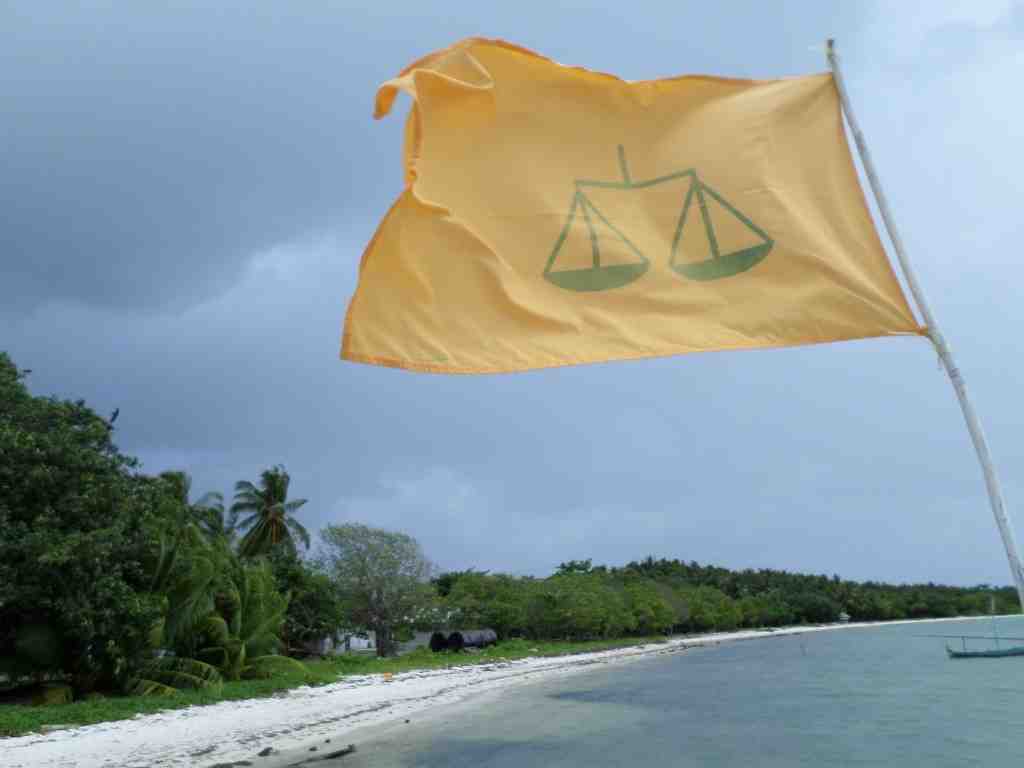 The island of Baarah is shaped like a C, with the jetty right at the centre. On both sides is turquoise blue sea and a long white strip of beach lined with tall coconut palms and other large tropical trees. It is the island where national hero Boduthakurufaanu met his wife, and the island of Ramlah, the winner of the first Maldivian beauty pageant held back in the glory days of Mohamed Amin Didi.
Lunch is at a small restaurant attached to a house which opened its doors for MDP on Baarah. There is the usual splendid array of Maldivian food—rihaakuru garudhiya, bambukeyo lee baiy, lonu mirus, even kan'doo from the kulhi with fresh grated coconut and grilled reef fish. Over a dozen women move in and out of the restaurant area. Like on other islands, they have pooled their efforts to cook up the feast.
The men of Baarah are also surprisingly hands-on in serving food and overseeing lunch. We meet a most interesting man as we linger over the meal. Moosa Bey (Moosa Ibrahim) is a 75-year-old man who bursts into loud uncontrollable tears suddenly and without warning.
"I have a very big and very soft heart," he tells us before beginning to cry loudly. It takes a few of us media people a good half hour of trying to console Moosa Bey to realise what the whole island already knows: Moosa Bey likes to act.
Still, he is a very likeable man, and we visit his house to meet his wife Faathuma. En route, he flirts  with the twenty-something year old volunteer who joined us from Kulhudhuffushi. He wants his picture taken with her.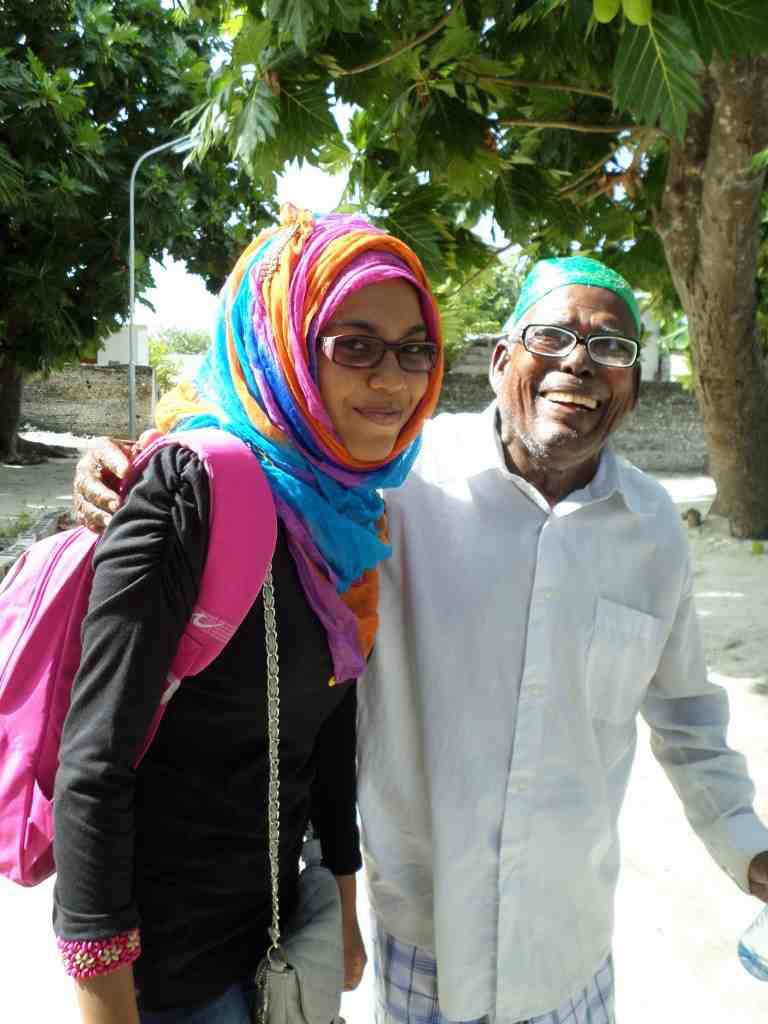 Moosa Bey proudly claims that his house, almost complete now, is being built with the Rf2000 benefit for the elderly that he and his wife receives from the government every month. Moosa Bey's house is modest, and there is no furniture just yet.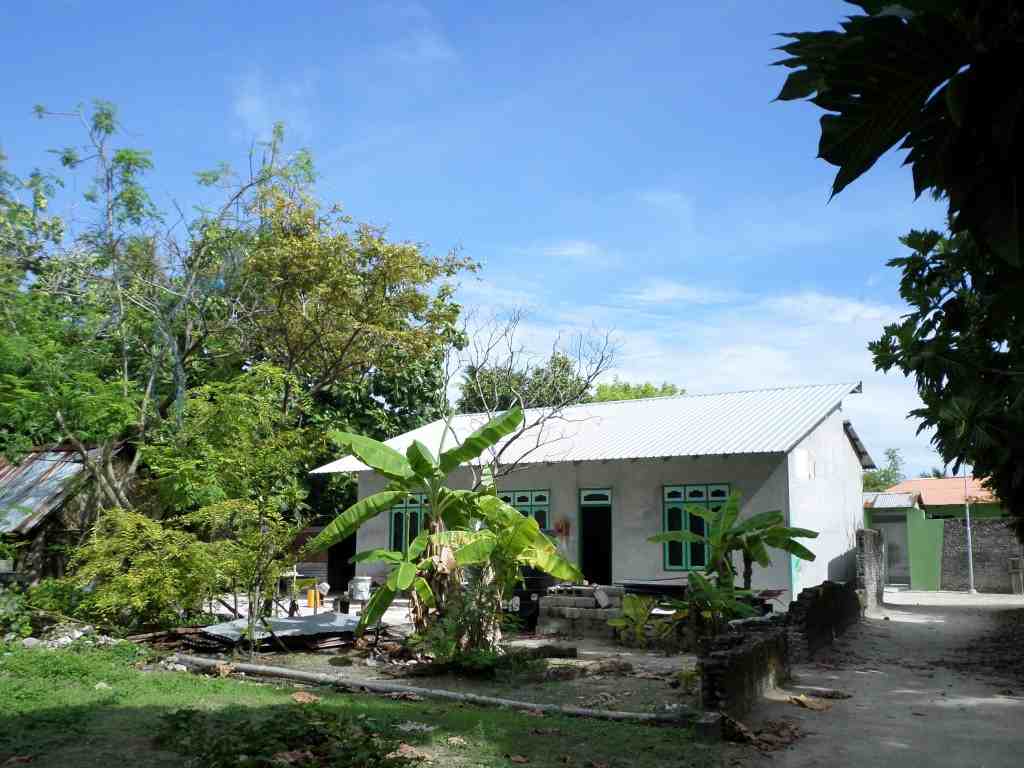 Walking around, I notice people here are even more polarised than on all the other islands we have been to. Non-MDP supporters are openly hostile, even to us 'media people' walking around with neither Nasheed nor any member of the MDP campaign team anywhere in sight. They refuse to smile or greet us, choosing instead to look on glumly, staring daggers.
It is sad to see traditional Maldivian hospitality vanishing in the strong emotions of partisan politics. I meet a twenty-something year old woman who is not an MDP supporter but is willing to talk. Only because she has a friend among the media.
I learn that on Baarah the PPM and/or 'opposition coalition' supporters are more forceful in intimidating MDP supporters than the men I heard about on other islands. "MDP members hired a woman's Bodu Beru group to welcome Nasheed.
The group is composed mostly of members of DRP and supporters of Gayoom. The women were willing to play for money, though, Nasheed or not. But the men intimidated them into pulling out at the last minute. "They were going around making all kinds of threats," she tells me.
It is around 4:00 p.m now and the trip is coming to an end. Nasheed leaves for Male' at 7:30 pm and we need to be in Hanimaadhoo airport by 5:00. At the jetty, a fishing boat has docked. Women gather to buy the catch. One by one, they come back with varying amounts of fresh fish which they will cook at nightfall.
Nasheed will leave for Noonu Atoll day after tomorrow.
**********
For more photos of the trip, visit Dhivehi Sitee Facebook Page